Two-level partner program — even more benefits from cooperation
Two-level partner program — even more benefits from cooperation
The entire Tucha team makes a lot of effort every day to ensure that more and more companies join clouds and receive benefits for their business from using it. And our partners greatly help us with this task. Recently, in a separate article, we wrote in details about all the advantages that our partners get from working with Tucha: satisfied and grateful customers, guarantee of reliable and transparent cooperation, maximum attention to each task, transfer of non-core orders, assistance in information promotion, and much more.
And since recently, the Tucha partner program has been supplemented with another good opportunity! Each partner who leads another partner that starts selling our cloud services receives a reward for their recommendation.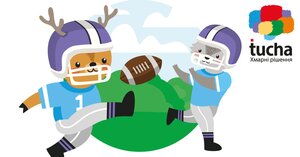 In practice, it looks like this:
You offer your colleagues or acquaintances to become partners of Tucha.
They register in our program and start bringing clients to us (for the services TuchaKube, TuchaFlex+, TuchaBit, TuchaHost, and TuchaBackup).
After connecting the first client attracted by such a partner, you will receive from us a one-time reward of 500 hryvnias.
It is important that by recommending us as a reliable partner and cloud service provider, you get confidence that both the partner that you bring and their customers will be satisfied. You will not have to blush for your recommendation, and the partner will not have to doubt their advice to the client. Before starting work, if necessary, we help the client determine the service and configuration they need. And during the entire period of cooperation, our responsive and competent technical support will be available 24×7. The excellent quality of our services, the responsibility of the Tucha team, and our quick response to all questions are confirmed by numerous reviews on the site.
Therefore, if you have not joined our large partner community yet, and have not enjoyed all the benefits of cooperation, we suggest you do it right now. Get the benefits from the cooperation and confidently recommend us to your customers and partners. And if you are already our partner, begin actively recommend us to other partners. Since now the partnership has become even more profitable.
If you have any questions about the partnership, please contact us at partners@tucha.uaa or call +380 44 583-5-5833. We are always in touch!