Hosting sites on Bitrix: Site Management
Hosting sites on Bitrix site Management
Optimized VPS on SSD for fast and smooth site operation on Bitrix: Site Management
Secure hosting of high-load websites in the cloud
We are a certified Bitrix hosting partner. This ensures that when you work with us, your website or corporate portal will work efficiently with maximum speed. Our servers' hosting performance indicators are usually at least twice higher than the reference.
We will provide reliable placement of high-load websites and portals in the cloud on secure virtual servers in Ukraine or abroad (mainly in Germany). We will advise and help you with migration.
Чому хостинг для платформи «Бітрікс» орендувати найкраще у нас
Наша компанія не просто надає ресурси для розміщення даних на сервері. Ми також допомагаємо перенести всю необхідну інформацію у хмару та забезпечуємо подальшу технічну підтримку. Хмара від Tucha гарантує безпечне розміщення порталів на захищених вебсерверах як в Україні, так і за кордоном, а також надає можливість додаткового шифрування каналів зв'язку.
What are the advantages of virtual servers over hardware servers?
Your own powerful IT equipment requires significant investments, maintenance, and modernization. Besides, it does not guarantee protection from unauthorized access, and performance depends on the stability of your power supply.
Sites placement on CMS Bitrix: Site Management in the clouds of the recommended hosting partner is:
fast product operation without crashes or breaks;
fault tolerance and high availability of services;
easy resource scaling and convenient 24/7 access,
round-the-clock qualified technical support of Tucha in solving any issues and tasks.
Choose a service for hosting projects on Bitrix: Site Management:
Flexible cloud servers for reliable project hosting on CMS Bitrix: Site Management. Data is stored on virtual servers outside Ukraine (mainly in Germany) in Tier 3 security level data centers that have or higher. Guaranteed services availability is 99.9%.
Потужні віртуальні сервери на базі сучасних процесорів з дата-центрами як в Україні, так і поза її межами, за доступною вартістю. Високу швидкість роботи забеспечують сучасні процесори Intel Xeon Gold 6248R з тактовою частотою не менш ніж 3.0 ГГц. Гарантована доступність послуг — 99,9%.
Balanced cloud servers for profitable hosting of web projects based on CMS Bitrix: Site Management. Data is placed in Ukraine in Tier 3 security level data centers or higher. Guaranteed services availability is 99.9%.
Ми підготували декілька готових рішень для хостингу проєктів на «Бітрікс»:
перший сайт, 4 модуля;
старт, 13 модулів;
стандарт, 21 модуль;
малий бізнес, 31 модуль.
Усі наші сервіси досить гнучкі та легко масштабуються, що дозволяє підібрати і надалі легко змінювати конфігурацію відповідно до конкретних цілей кожного клієнта. Напишіть нам просто зараз, і ми допоможемо визначитися з найбільш влучним сервісом і конфігурацією для ваших задач!
 
What is Bitrix: Site Management
Bitrix: Site Management is a popular system for managing the content of websites (CMS). It is a virtual machine deployed on a local or cloud server that contains all the site management tools, such as caching, clustering, databases, stores, dashboards, and site content settings. CMS allows you to create and manage online stores, corporate and information portals, business card sites, and other web projects.
This system is quite powerful but complex. We do not dwell on the configuration or programming in Bitrix: Site Management, because our responsibility is somewhat higher, at the level of the virtual machine. Our reputation and Service Level Agreement (SLA) is a guarantee of the power and performance of our virtual machines.
How to deploy or transfer a site to Bitrix: Site Management in the cloud
All you need to do is take a few simple steps:
1. Choose the desired VPS yourself or with our help.
2. Receive the access details from us.
3. Download the installation script from the manufacturer's website and run it.
4. After installing the script, the Bitrix menu will appear: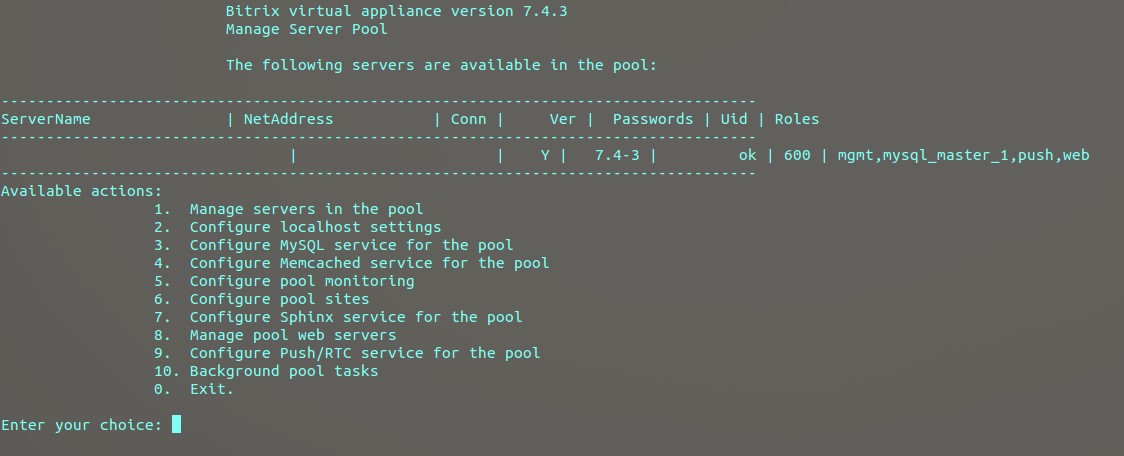 5. After executing the script for installing BitrixEnv on the server (regardless whether the machine with this environment was given by us or you did the installation of the environment yourself), wait for the window to appear in the browser: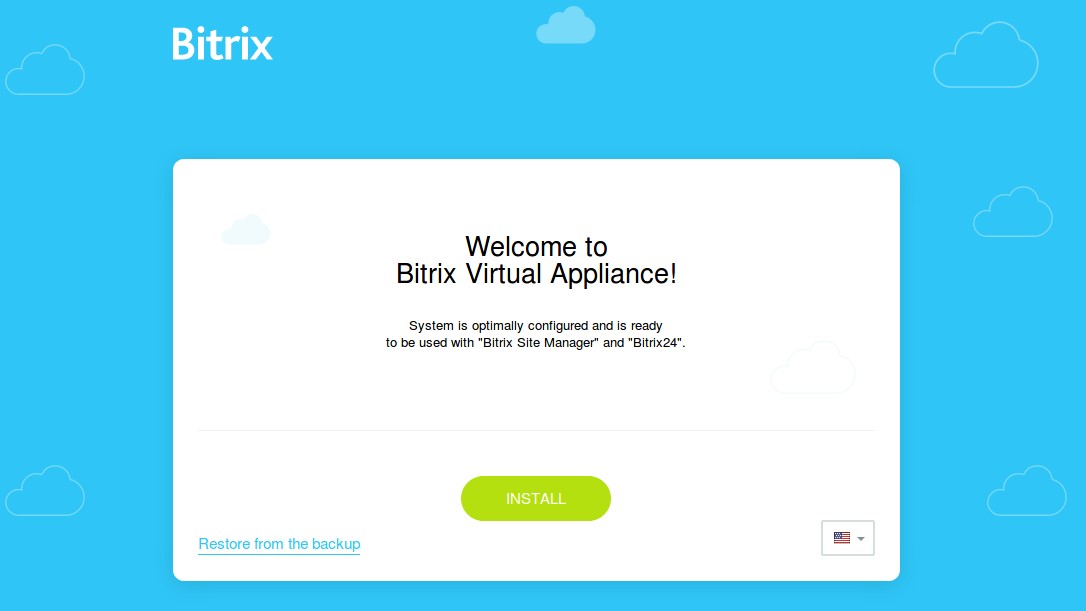 Restore a site from a backup (if you are transferring an existing site) or deploy a demo version of the product, which you can then pay to use commercially.
The performance indicators that are measured in Bitrix points on our servers are usually significantly higher than the reference (30 points). It is clear that the less your site is loaded, the higher performance indicators. So, the number of Bitrix points on a business card site will always be higher than on a highly loaded online store.
Tell us about your task
Our experts will contact you soon and help you choose the best solution