Checklist: How to choose a cloud provider
Checklist: How to choose a cloud provider
So, you decided that you cannot do without cloud services. The next step is to find a reliable provider. You enter the search request "cloud provider" and ... you do not know where to look first. There are a lot of offers, and all suppliers look the same "high-quality service", "affordable price", "individual approach" and so on. How not to lose in so many similar-looking proposals?
Here we share practical tips.
Ділимося з вами практичними порадами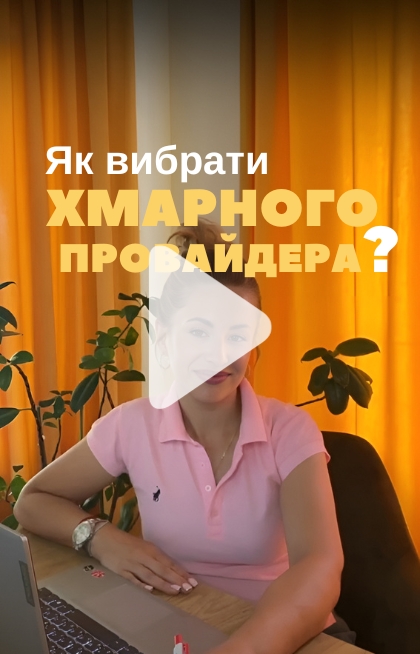 Ділимося з вами практичними порадами та корисним інструментом у вигляді таблиці. Для зручності використання можна завантажити чек-лист. Обов'язково ставте питання з переліку нижче потенційним постачальникам, позначайте відповіді в таблиці та вибирайте найкращий варіант за найважливішими для вас критеріями.

Find out reliability of data centers where your data will be stored
This is one of the main selection criteria. Data centers' reliability consists of several factors: geographical location, degree of security, physical security, availability of necessary communication sources (uninterrupted power supply, air conditioning, etc.). Let us look at everything in order.
Location of data centers. There are data centers both in Ukraine and abroad. Each of the options has its characteristics. In general, data centers outside of Ukraine can boast a higher level of availability. The advantage of Ukrainian data centers is the lower cost of services.
We offer two versions of the virtual servers with different locations of the data centers: TuchaBit and TuchaFlex+ in Ukraine and Germany (mainly).
Physical security and security of data centers. Includes protection against unauthorized persons on data centers territory, electronic protection systems, centralized uninterruptible power supply systems, air-conditioning, and power supply, and duplication of major systems ensure a data center efficiency.  A reliable data center must be certified.
It makes sense to trust only those providers who place equipment in Tier III and IV data centers. Why? In case of errors and system failures in data centers with Tier I and II security levels, their operation can be completely paralyzed. Tier III and IV ensure system performance even during data center failures, repairs, and maintenance.
For example, we only work with Tier III and higher-level data centers. This ensures high fault tolerance and data security in the cloud, as well as stable operation even in case power failures.
All the important communications (power supplies, Internet, power lines, backup channels, cooling systems, etc.) in our data centers are duplicated. Thanks to this, recovery processes are carried out without stopping the operation of the equipment.
Make sure that your provider provides snapshots
Before you entrust your important data to a provider, it is extremely important to make sure that this company provides snapshots. Snapshots guarantee the reliability and security of your data storage in the cloud. Also, it is the indicator of a provider's responsibility.
Unfortunately, not all companies provide this service, because it requires additional investment in equipment. However, we have taken care of this to ensure that your data is completely secure. TuchaBit and TuchaFlex+ services already include the cost of creating and storing the last two snapshots. And if you need more snapshots, you can order additional snapshots.
Snapshot is an image of a virtual machine disk, the entire system with software and data stored on it, at a certain point in time. Snapshots help to restore a system to its original working state after any critical changes. For example, after a virus attack, use a snapshot to restore the machine's disk to the state it was in when it was created. Snapshots are usually created at night (from 20: 00 to 6: 00), but you can always change the time interval.
Do not confuse snapshots and backups (data backup). It is not enough to make only backups since they only create copies of individual files. Copies will help restore certain files, but only snapshots can restore the system state. Therefore, it is best to use these tools together.
Read more about snapshots, their work, and benefits in our article.
Determine the quality of technical support: availability, speed, and response efficiency
By itself, the presence of technical support does not guarantee you a quick response to requests and high-quality help. Find out more about your provider's technical support service: work schedule (for your convenience, it should be 24x7), response speed, and interest in a client's tasks. To check the availability of technical support in practice, contact it through various communication channels.
It is good when there are several ways to reach technical support: phone, mail, ticket system. Tucha technical support works through all these channels. And you always have the opportunity to make sure that we are available.
Check out the technical support levels and server administration capabilities
In order not to be left without help when you need it, check out in advance a provider's types of support. What support does a provider provide? Let's look at the example of our company. We provide 4 types of support:
Free basic support. Our service employees maintain the functionality of our infrastructure, ensure its stability and availability. We do not have access to the operating system on your server, so we do not interfere with its operation. We only give you professional consultations.
Permanent server administration. We get access to your system and can not only consult you but also solve problems related to the operating system and software installed on your server. The cost of the service is 50% of the cost of the server, but not less than 30 euros/month.
Hourly server administration. Administrator rights are granted to us only for a period of one-time work to fix OS and software errors. The cost of the service is 20 euros/hour.
Warranty support. In general, it is the same as server administration, but it is free of charge. The important condition that it is a new virtual machine and only employees of our service have administrator rights. It works only for hosting websites, email, domain zones, and files.
As you can see, there are lots of options. :)
Before starting cooperation, ask a provider about the availability and terms of support.
Ask if a provider provides migration to a cloud and helps you "make friends" with cloud technologies
Users often need to transfer data (sites, email, etc.) when they move to a cloud.
Tucha is a provider that treats these types of customer requests with understanding. There is a migration service for this purpose. We will not only quickly transfer your workplaces, sites, email, or other data to the cloud but also answer your questions about migration and more.
Find out about a guaranteed level of services availability
If uninterrupted access to the cloud is important to you (and we know for sure that it is important:)), check indicators of guaranteed availability of services. The availability of services is a guarantee of their fault tolerance in specific numbers. For example, TuchaFlex+ (Europe) service has 99.9% availability. This means that service interruptions can take no more than 7 hours per year. The availability of TuchaBit (Ukraine) is 99.0%.
Ask if a provider cares about the legal security of services.
It is important that a company provides a competent agreement with a clear distribution of responsibility areas of parties. Also, clarify how a provider responds to requests to seizure customer's data or equipment.
We work on the basis of the detailed Public Agreement that is uniform for all clients.
Find out about the possibilities of encryption of information and communication channels, the availability of additional services for data protection
Pay attention to the possibility of encrypting data and channels. Has your provider provided special templates for virtual machines with enabled disk encryption? Is it easy to access the communication channel encryption function?
It is also good when a provider has additional services to ensure security. For example, we have "Anonymity on demand". The service allows you anonymously visit sites and work with applications that use TCP protocols.
All possible solutions and functions for data protection are a benefit for you and a plus to your provider's karma. :)
Find out if a provider provides a set of services
It is convenient when one supplier has everything you need for work and personal use. For example, not only virtual machines but also backup storage.
Along with TuchaBit/TuchaBit+/TuchaFlex+ services for placing workspaces and separate applications in the virtual environment, Tucha also has a whole line of services that usually cover companies' main needs of cloud services.
TuchaBackup service is secure backup storage of your data on remote servers outside of Ukraine. Placing copies in the cloud ensures the physical security of data, protecting it from loss and access by unauthorized persons. You can choose any configuration of the service, with 10 GB scaling step.
TuchaHosting service allows you safely host websites and mail in the cloud on virtual servers in Europe (mainly Germany). Traffic, databases, mailboxes, FTP-accounts are free of charge and are not restricted. 2, 10, 25, and 50 GB configurations or higher are available. We will also help you with transferring websites and mail.
With TuchaSync cloud storage for syncing and sharing files, you can upload, download, and edit files on any device. Information is stored in reliable data centers outside of Ukraine, and you can access it at any time. If you are an authorized user, of course. All you need for work is an Internet connection.
We are always happy to help you choose the right service and its configuration. Contact us 24×7!
Check out services price
The price must be adequate, so explore prices for services in advance. Beware of too expensive and suspiciously cheap offers. An inflated price does not always guarantee super-quality, and an unnaturally low price may indicate questionable technologies and risks of data loss.
Many providers place special calculators on their sites, as we do. These calculators will help you quickly calculate the cost of any service.
Find out if a company's pricing is transparent
The cost of services should not only meet the "value for money" ratio but also be transparent for all customers. What does it mean? Of course, it can be tempting if a provider is ready for everything in terms of price. But at the same time, it is also a reason to be wary. Maybe this provider does not clearly understand their math, which means the stability of the company (and your data) is in question, or you will face pitfalls and overpay for non-obvious from the start aspects. Our prices are available on our website and are the same for all customers.
Check if there is a free test drive of services
A test period is a great opportunity to try a provider in action, evaluate the service, and the work of technical support.
In addition to technical factors, pay attention to the quality of communication with the company's employees. Is it easy to find common ground, is there mutual understanding? If you are not comfortable communicating at the initial stage, the chance of long-term and effective cooperation is low.
We offer 7 days of free trial use of any of our services. The test period is good because it allows you to become a client for a while and assess whether a provider is suitable for you or not.
See provider's reviews and recommendations
Ask what other customers say. Reviews and personal experience of users is a powerful tool for forming an opinion about a company and making decisions.
In addition to reviews on a supplier's website, do not be lazy to read independent resources (objective reviews of hosting companies, reviews in social networks). Despite we mentioned this point as the last, you need to start your search of a cloud provider from reviews.
Choosing a reliable provider is a responsible step. We have collected for you the main tips on how to find your company among many companies and not make a mistake. Read, research, and we are always ready to help you and become your reliable provider of cloud. Contact us 24×7!