New features for e-shop hosting from Tucha
New features for e-shop hosting from Tucha
Online trading is spreading rapidly around the world. More than 70% of customers prefer online shops. To a large extent, the success of e-shops depends on a site loading speed and its stable operation. In our previous articles, we told how clouds help provide high-quality hosting for online shops. And during this time, something important happened: we launched a service TuchaBit for hosting web projects, including online shops that operate on a platform Bitrix: Site Management. This gave new opportunities for online shops that work in the cloud from Tucha. In this article, you will find how you can save even more and ensure the reliable operation of your online shop.
Why you cannot do without high-quality hosting for e-shop
An online shop's fast and stable operation is one of the factors that are crucial for buyers. It is especially disappointing to lose sales if all the processes are already established: a convenient website, an attractive design, a good selection of products, fast processing, and shipment of orders, and so on. Even in this case, a 1-second delay in loading the site can reduce the conversion rate by 7%. By the way, the world's fastest online shop loads in less than 0.5 seconds! Therefore, the e-shop's slow operation affects customer loyalty, the number of orders, and the conversion rate. But is it always necessary to invest in powerful and expensive IT resources so that the business meets the needs and expectations of online buyers? Not at all. There is a better solution for this — clouds.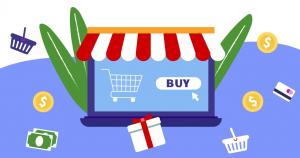 Advantages of cloud solutions for online shops
Let us look at what clouds give to the business.
Fast loading, smooth operation of the site, and reliable data placement
The clouds from Tucha help to ensure the high-quality and stable operation of online shops. The availability of our cloud services is 99.0% and 99.9%, depending on the selected service. All our services operate in the computing cloud in data centers with Tier 3 security levels or higher.
High level of fault tolerance of the system and work with services even in case of power supply failures
The clouds from Tucha guarantee high levels of system fault tolerance. At the same time, the client's business does not depend on the stability of the power supply and works reliably even under critical loads and peak influx of visitors.
Cost savings on IT equipment
With clouds, you do not need to spend money on setting up your server room, maintaining it, replacing resources, and keeping IT and hardware specialists. It is especially important for online shops that are just opening because the clouds do not require initial investments in equipment. With clouds, you only pay for the resources you need right now.
Flexibility and ease of resource scaling
Increasing physical server resources require new financial investments and the involvement of specialists. And if there are too many resources over time, some of them will not be used. Which leads to additional costs.
When working with virtual servers, resources scale significantly faster. If necessary, you can agree on a new server configuration within minutes.
Easy site management from any device 24/7
To access the working environment, you can use any device with any specifications. You have 24/7 access to your online shop management from anywhere in the world
Round-the-clock multilingual technical support
Tucha technical support works round-the-clock, so we are always ready to answer questions and help in solving problems.
Hosting of online shops on Bitrix: Site Management in TuchaBit
Since recently web projects and online shops based on the Bitrix: Site Management platform can be hosted on our Ukrainian platforms. What are the advantages of such hosting? The main advantage that it is an even more affordable cost of the cloud for stable operation of the e-shop. This is a good decision if the placement of data outside of Ukraine is not a matter of principle.
Let us recall that TuchaBit is the service of balanced configuration virtual servers with guaranteed availability of 99.0%, placed in Ukraine. The cost of the minimum configuration is only 11 euros per month. The most popular configurations are 2, 4, 6, and 8 units. And you can choose any number of units according to your tasks, and we will always help you in selecting the necessary solution.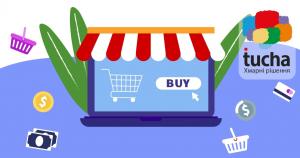 Choosing Tucha services for your online shop
Services for high-load sites with a large number of visitors:
TuchaBit, which we described above.
TuchaFlex+ is a service of virtual servers of any configuration with data centers outside of Ukraine (mainly in Germany). Guaranteed availability of the service is 99.9%.
For sites with low or moderate loads, with a small number of visitors, and new sites:
TuchaHosting is a service for securely hosting websites and mail on cloud servers outside of Ukraine (mainly in Germany) and with 99.9% service availability.
Calculators
You can calculate the cost of any service yourself. To do this, we have developed special calculators for each of the services: TuchaBit, TuchaFlex+, and TuchaHosting. And you can trust the experience of our experts. They will consider all the nuances and find the best solution to your task.
Questions that we are frequently asked
1. What are the advantages of cloud servers over physical ones?
In fact, there are many advantages. First of all, servers' physical remoteness allows you to protect your data from access by intruders and unauthorized persons. Additional data protection is provided by system snapshots and the ability to make data backups. Secondly, it is an opportunity to save money on routine maintenance and modernization of IT equipment. Also, resources are quickly and easily scaled if necessary.
2. Why is it better to choose our hosting and not any other? Since there are free ones.
The main thing is that we provide guarantees and high-quality operational multilingual technical support, as you can see from our clients' reviews. If you have problems with free hosting, there is no way to contact technical support and quickly solve the problem. Suppliers provide the services without any guarantees or obligations. But we are in touch 24/7. Cooperation with us is regulated by the Public Agreement (offer).
3. How quickly will we provide more resources if they are needed?
Flexibility and ease of resources scaling is an important advantage of the cloud. Adding resources to the configuration that the client is already using is a matter of minutes. It is clear that with physical servers, this process is noticeably longer.
4. How can I decide which service to choose if I have no previous experience with the cloud?
In this case, it is better to call or write to us. We will tell you in detail about each of the services and help you choose what is best suited for your specific task. Consultations of Tucha specialists are free do not impose any obligations.
Conclusion
Fast and stable hosting for online shops is an important factor that affects conversions and customer loyalty. Cloud solutions will help ensure smooth operation. Clouds provide reliable data storage, mobility, easy scaling of resources, and help protect data from damage and access by intruders. From now, high-quality hosting is even more affordable with the service TuchaBit! And we, as always, are ready to help with the selection of the configuration and the most suitable service for solving your specific tasks. Contact us 24×7!