DirectAdmin web hosting control panel: functions and features of operation
DirectAdmin web hosting control panel: functions and features of operation
For a long time, we used such a popular product as ISPmanager for servers that provide websites and some assistive services. Of course, we all should have left it after 2014, but such tectonic shifts require a lot of effort. Therefore, we have to not only provide the migration of services (websites, mailboxes, domains, etc.) to a new software environment but also convince many clients of the feasibility of such a step.
In this post, we would like to take a look at DirectAdmin, an open API system from Canadian developers JBMC Software. We will tell and visually show the main functions of the panel and how to work with it. So, we hope that those customers who have not yet dared to get rid of another russian software product, after reading this material, will have the opportunity to make sure that DirectAdmin is a worthy alternative to the tools they are currently using.
The main thing about DirectAdmin
The panel is compatible with virtual servers based on GNU/Linux and FreeBSD operating systems: CentOS, Red Hat, Fedora, and Debian distributions. Also, DirectAdmin works with such software as Apache HTTP Server, MySQL, Exim, Dovecot, BIND, PHP, and Perl interpreters.
The tool has a simple and clear interface. The panel's primary functions are managing websites that require a LAMP environment, e-mail services, and domain names. Additional features include everything we usually expect from a hosting server control panel: managing backup copies and their creation schedule, automatic updates, and basic system configuration, and creating templates for user and reseller accounts. So, quite a standard set of functions.
What is the difference for those users who previously worked with ISPmanager? First of all, the funds for using this product will not get to russia. So, switching from ISPmanager to DirectAdmin means a little less money for the terrorist state. DirectAdmin provides slightly fewer options for selecting versions of the PHP interpreter, but the functionality of the panels is similar - all the major features are there. And the interface, in our opinion, is much more convenient and functional.
How to work with the panel
Personal profile settings
To log in to the control panel for the first time, you need to follow the link from a letter with access details sent by the Tucha technical support service in the Address field of the control panel. Log in to the system: enter the received username and password of the account.
By default, the panel interface is displayed in English, but at this stage, you can select a language in the Language field. You can also save the login details, so you do not have to fill them in manually every time, but that is a matter of users' trust in a browser's password keeper.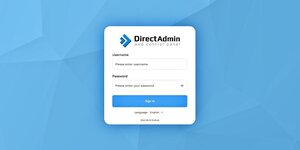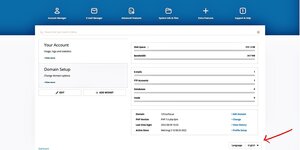 in the settings of the personal profile, which is in the upper right part of the page: Skin options - Language.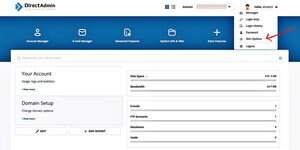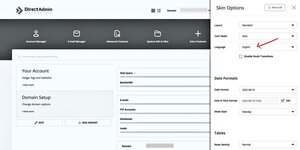 We recommend changing your account password immediately after logging in. You can also do this in your personal profile settings in the Password section: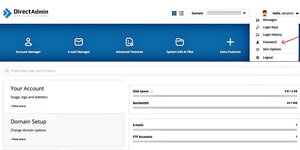 In addition to the features already mentioned, personal profile settings contain several more useful functions:
viewing messages and creating requests to the support service of the DirectAdmin panel;
management of login keys that allow you to create additional account passwords;
changing the account password for access to DirectAdmin, FTP services, and the main database account;
viewing the history of the account authorizations in the control panel;
creation and management of design theme options;
log out from the current control panel account.
Let us take a closer look at Skin Options, which provide control over the panel design. In addition to the language settings, they also allow you to:
Adjust the interface style according to the available templates.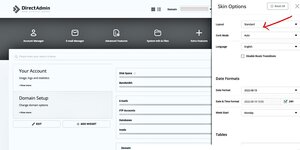 Basic functions
After logging in, the interface of the main page of the panel opens. Next to the setting of the personal account at the top of the page, we immediately see the possibility of choosing a domain for management from the DirectAdmin panel.
Some of the hosting management features are available below: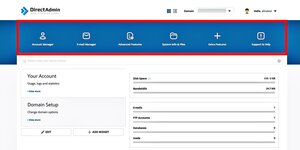 Account Manager. 
In this section you can:
Configure domains and subdomains — rename, block, and unblock them, delete current ones, and add new domains.
Manage DNS - edit, copy, and delete current records, add new records, change MX records, and override TTL values.
Manage SSL certificates — install new ones according to the provided step-by-step algorithm and delete current ones, get information about automated certificates.
Configure current and create new accounts for FTP services.
Work with MySQL databases - manage existing ones, create new databases, and download backup copies.
Manage and create domain pointers.
Configure URL redirection of websites and create new redirects.
Enable image protection from Hotlink.
Set PHP settings.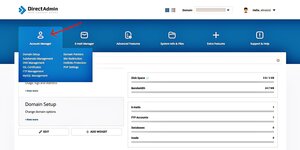 2.    Management of E-mail.
Section for managing mailboxes. Allows you to configure forwarding, install spam filters, manage mailing lists, and perform other actions for configuring work with mail.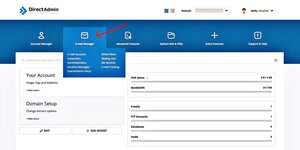 3.    Advanced Features.
The section provides the ability to work with advanced features, namely: create and manage backups, cron tasks, and mime types, as well as configure two-step authentication and set control questions, enable nginx templates.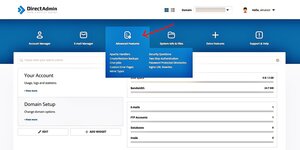 4.    System Info & Files.
The section allows you to configure work with files, view installed Perl modules, and receive information about the system state: technical characteristics of resources, and load indicators. It also helps to find out domain statistics and the status of basic settings.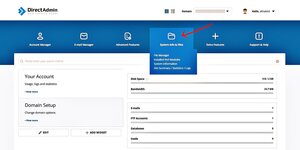 The File Manager section provides management of all files placed on the virtual server. Namely, you can perform the following actions: create, view, rename, copy, delete, search for necessary files, and assign access rights. 
There are also functions for creating new directories, a text file with JavaScript, CSS, PHP, or other extensions, and downloading files directly from the device from which the connection to the control panel is made.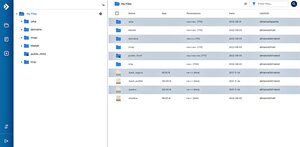 5.    Extra Features.
Control panel capabilities allow one-click access to personal software cabinets: Roundcube for email and web interface, as well as phpMyAdmin for MySQL or MariaDB database administration.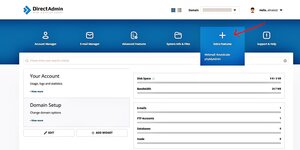 6.    Support & Help.
If you have questions about working with the control panel, you can directly address the DirectAdmin support service. In the same section, you can view the history of requests and get up-to-date information about API documentation.
Below the main features panel on the main page, two more large sections are available: one of them provides detailed information about the account (Your Account) - resource usage statistics, error log, and account settings. The amount of used disk space, traffic, the number of mailboxes, FTP service accounts, databases and descriptors, domain data, and account activity are displayed in more detail in the control panel.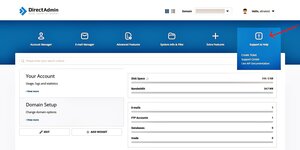 Below the main features panel on the main page, two more large sections are available: one of them provides detailed information about the account - resource usage statistics, error log, and account settings. The amount of used disk space, traffic, the number of mailboxes, FTP service accounts, databases and descriptors, domain data, and account activity are displayed in more detail in the control panel.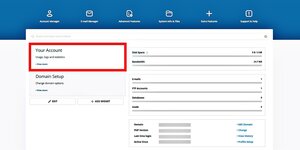 Another section is Domain Setup, which displays the number of domains and subdomains and information about them. It is also possible to add a new domain.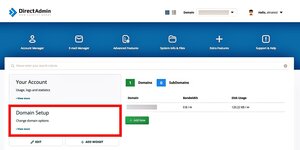 As you can see, it is not difficult to understand the functionality of the panel, especially if you have previous experience with other similar tools. All thanks to the intuitive interface and the necessary set of functions for web hosting management.
By the way, our step-by-step instructions will help you understand how to start working on a virtual server The article will provide clear answers to the main questions: how to connect to the server, transfer programs and data, set basic settings, and much more.
Have a question? Contact us!
If you need our help in working with the panel or virtual servers in general, write or call and we will be happy to help. And if there is a need to tell in more detail about specific features or show their settings visually, just let us know and we will prepare new reviews of the DirectAdmin panel.
We will be glad if our other technical articles and useful instructions also come in handy. Read, use, and work in the reliable clouds from Tucha!