TuchaHosting — the best solution for high-quality website and mail hosting
TuchaHosting — the best solution for high-quality website and mail hosting
[UPD] Friends, now the cloud hosting of TuchaHosting is also available on the basis of Ukrainian platforms! For whom hosting of data in Ukraine is suitable and what the advantages such a solution offers — read in this article.
Uninterrupted and fast hosting is the key to a high-quality website and corporate mail operation. In most cases, shared hosting in the cloud with a high level of fault tolerance and at an affordable cost is the best way to do this. Our service TuchaHosting meets all these criteria (and offers even more). Here we will tell you about all the advantages and numerous useful features of the service.
The main thing about TuchaHosting
It is the service for stable and fast hosting of websites and corporate mail in the cloud. It helps to securely place data in secure data centers both in Ukraine and abroad (mainly in Germany) - according to client preferences. Which option should I choose?
Cloud servers on Ukrainian platforms are suitable for website owners, for whom the placement of websites within the country is critical since their audience is mainly concentrated in Ukraine. The geographical location of the data centers provides such clients with a reduced ping and a much shorter delay in loading and processing data. In addition, the servers in the Ukrainian data centers are based on Intel Xeon Gold processors, which additionally increases the speed of the processes.
If the client's website visitors are mainly located outside of Ukraine or for some reason, storing data abroad is a crucial factor, in this case, the European platforms of TuchaHosting will be a more suitable solution. At the same time, guaranteed availability of services at the level of 99.9%, the cost of using the service, and the availability of additional features are the same for both platforms.
The capacities that host data are located in data centers with Tier 3 security levels or higher. It means that the service is working without any downtimes or failures, even during repair or maintenance work in the data centers.
TuchaHosting is a simple and reliable hosting service with clear pricing. In each of the packages you get without restrictions, the following:
traffic;
MySQL server databases;
mailbox,
FTP accounts.
In addition, with a "Reseller" option enabled (below, you can read more about this option), the number of domains is also not limited.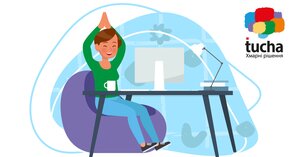 For what tasks the service is suitable
Stable hosting based on TuchaHosting service is perfect for hosting in the cloud:
Corporate mail, i.e., e-mail registered on the company's domain and intended for exchanging messages between employees, correspondence with customers, suppliers, and partners.
Websites with a small or moderate load. In other words, the service is suitable for hosting web resources that do not require high-performance. In particular, these are the following types of sites:
landing page;
business card site;
online shop with low traffic;
low-load corporate portal;
other websites based on WordPress, Bitrix: Site Management, Joomla, OpenCart, Drupal, or any other CMS.
If you need to host a high-load website in the cloud (for example, a large corporate portal, high-load online store, or large-scale catalog site), we recommend you pay attention to the virtual servers based on our services TuchaHost, TuchaBit, TuchaBit+ , or TuchaFlex+.
Cost of TuchaHosting
The minimum configuration of the service starts from 0.5 GB of disk space. Depending on the package, TuchaHosting can be paid for a period of 1 to 24 months. Also, most packages have discounts if you pay for a long period.
The price of all tariffs already includes:
data backup;
spam and virus protection;
ability to use DDoS-umbrella CloudFlare.
It is easy to calculate the cost of the desired configuration for a given period with the help of the easy-to-use service calculator on our site. Or you can contact us right now, and we will quickly tell you the cost of using the service for a specific task and answer any questions about cooperation.
Moving to TuchaHosting from another platform
Tucha specialists will be happy to help you move your sites and corporate email to our cloud. We will do it for free, and most importantly —without data loss and in the shortest possible time.
Additional features of the service
The service has a lot of useful additional services:
Namely, it is possible to order:
IP addresses from our address pool for 2 euros/month;
IP addresses from a third-party address range for cost 10 euros/month.
Registration, re-registration, and support of domain names.
Currently, we offer about 400 domain zones for quick registration, including:
Ukrainian;
international;
domains of foreign countries;
Ukrainian regional domains.
The cost of using the service can be found here. If you have not found the desired domain zone in the list, please contact us, and we will find the solution for your task.
Connecting additional domains (including subdomains).
The cost of service packages from 0.5 GB to 10 GB includes the ability to connect a certain number of domains (including subdomains). Connecting each additional domain costs 1 euro/month. Starting with the 25 GB package, you can connect an unlimited number of domains at no additional cost.
This option removes the limit on the number of domains included in the tariff plan (including subdomains) and also allows you to create and manage client accounts. You can order the service in the tariff plan from 10 GB, and its cost is 5 euros/month.
Support for free SSL certificates from Let's Encrypt.
SSL-certificate is a kind of site security certificate (HTTPS). The SSL certificate guarantees that the exchange of information between the site owner and a user is reliable and is carried out using secure channels. This certificate confirms the data confidentiality and the integrity of their storage and allows users to share safely any personal data with the site.
The service TuchaHosting supports connection to the Certification Authority, which provides the ability to automatically generate free cryptographic certificates X.509 for TLS encryption (HTTPS).
This feature helps our clients to provide more secure interaction with site visitors and increase their trust.
In the 100 GB tariff plan, you can order additional disk space in 50 GB blocks. The cost of such blocks starts from 8 euros, depending on the period for which the service is ordered.
This service allows you to scale almost without limits the size of the hosting according to the need of the client, adding package after package, if necessary.
You can learn more about the cost of all additional services from the legal documents on our website.
Advantages of the service
The key advantages of the TuchaHosting service that the client receives are speed, fault tolerance, and reliable data placement in secure data centers in Ukraine and abroad. This type of data placement allows you to physically protect the data from falling into the hands of intruders and protects it from local force majeure.
Also, hosting of the website or email in the TuchaHosting cloud provides uninterrupted 24×7 access to the data, as well as the ability to manage it from anywhere and from any device: from a computer, laptop, tablet, or smartphone.
And what is more, our clients receive friendly and efficient technical support.
About technical support
The main thing that along with high-quality services, each of our clients receives qualified technical support from Tucha specialists who are sincerely interested in solving each client's task. Our team works in 24×7 mode and is always ready to help.
In numerous reviews of our clients and partners, they call our support the best.
Some accounting and legal issues
Payment for using the services of Tucha is made in hryvnia at the NBU exchange rate on the first day of each month. All prices already include VAT (for payers of this tax).
Each client receives a complete package of necessary accounting documents, including invoices, acts of completed work, tax invoices, etc. We use e-document management, but promptly provide paper versions of documents if the client needs it. The cooperation of clients with Tucha is based on the Public Agreement (offer).
Conclusions
TuchaHosting service is the best option for hosting corporate mail and websites with a small and moderate load due to a number of indicators:
affordable price;
excellent quality of services;
additional useful options;
best technical support.
Contact us and choose a suitable solution for your task! Call us at +380 44 583-5-583 or write to our email address sales@tucha.ua. We are in touch 24×7, and we are always ready to help you.