TuchaSync. Cloud storage for synchronization and file sharing
TuchaSync. Cloud storage for synchronization and file sharing
Every year the volume of information in the world grows by 30% All this information  needs to be stored somewhere. It means that we need new ways of storing data. There are USB thumb-drives, external hard drives, and other storage devices, but they are unreliable.
How can you protect yourself from losing important information and always have access to the necessary data? You can ensure your data safety by duplicating it on various devices or delegate this task to special services. Ideally, combine these two methods. For example, if you store files simultaneously in a cloud and on your device, you can restore them in case of deletion.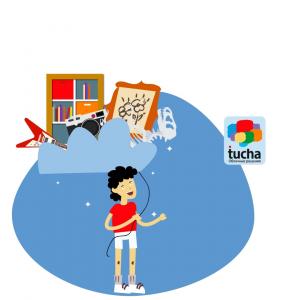 File sharing TuchaSync: what is this service and what is it for
We shoulder the safe storage of your files. Or, rather, our cloud. TuchaSync is a tool for storing, syncing, and sharing files in the cloud. You can use the service to view, download, and edit any type of file.
Both business clients and regular users can store and share files in the cloud. Our corporate clients trust us to store working documents and important files. And for our private users, the cloud is a reliable companion with their favorite photos, music, and videos that they can access from anywhere.
How and where you can use file sharing
Files in TuchaSync are available 24×7. Everything you need to work with the data is the Internet access. In other words, the cloud with you anytime, and anywhere. If you use the cloud on your smartphone, install a special mobile app.  Data on the service is synchronized, so you can work with it on any device. Files uploaded from your computer you can open on your phone! And vice versa.
Great, isn't it?
How to share files in the cloud
One of the main functions of TuchaSync is file sharing. You can upload data and share it with other users, as well as get links to view and download files from your cloud colleagues. Also, it is easy to understand functionality. You can upload files or folders to the service from your device or create documents in the cloud. To share files with other users, open access to the required files, and share the link. The owner controls the storage. You can manage guest access period, set permissions for working with files and allow users to upload their files to the cloud.
Do you need a higher level of data security? You can protect your information using a password. If you received a link to the cloud, you can view and download files. You can download individual documents or all of them at once. "Download" button saves files to your device as an archive in one click. You can also add documents directly to your cloud.
Storage safety factors
The security of file storage in the cloud is the priority of our work. We place user data on reliable platforms in Europe that provide 99.9% service availability!
How much does secure file storage cost
Cloud storage is flexible, so it can adjust to their owners' needs. You choose the volume of storage and, so, the cost of working with a file sharing service. In TuchaSync, you will definitely place all the important information. The storage capacity starts from 100 GB! For an average user, this is more than enough to store photos, music, and movies. But our cloud is scalable, and you can add more or less storage. Each step is equal to 100 GB. The maximum volume is unlimited! For reference, an average external hard disk capacity is 2000 GB.
Free test drive of the cloud and the best technical support
During 7 days period, TuchaSync successfully wins our users' hearts. A week of free storage, synchronization, and file sharing allows you to evaluate the service convenience and ease of use.
As statistics shows, 99% of our users can not imagine their lives without TuchaSync after test week! If you have any questions about our technical support, please call us or send us an email. Even if you ask how to upload a photo or download a document from the cloud, we will be happy to offer you detailed instructions.
Technical support is available 24x7, so we quickly respond to every request. In case we were very busy (saving the world) and accidentally missed your call, do not worry. We will call you back. If you decided to remind us about yourself via email, check your email more often. Most requests we process within the first 13 minutes. We will not leave you without an answer!
Save your resources and time for more useful tasks than searching and restoring (not always successfully) desired files. Entrust Tucha data storage, and you will have less to worry about!