Clouds in e-commerce. All pros and pros
Clouds in e-commerce. All pros and pros
Every year, the number of Internet sales in Ukraine increases by 30% on average. 31% of the total volume of buyers are e-commerce customers, (690 0000 people). At the same time, one out of five Ukrainians prefers to buy goods on the Internet. Such popularity of online shops among buyers is justified: it is convenient, fast, and effortless.
For e-shop owners, this is a profitable business. And with the advent of cloud technologies, it has become even easier to create and organize online shops. In the cloud infrastructure, your site is stable and fast. And at the same time, your investments in IT equipment are minimal. What are the other benefits of clouds in e-commerce?

Why customers prefer online shops
The fact that the number of online shops and online buyers is steadily growing is quite understandable. For customers, the advantages of online shops over regular ones are clear:
Prices in online shops are lower than in real retail outlets, so owners do not need to pay for the rental of premises.
The choice of goods in online shops is broader than on the shelves of ordinary shops. Why does the customer need to buy what is available in a shop if they can go online and choose what they want?
Fast, and usually with free shipping. And all thanks to the rapid growth of logistics, in which clouds also play a significant part. :)
Timesaving and the ability to order goods at any time without being tied to a shop's work schedule.
Benefits of online shops for their owners
An e-shop is beneficial not only for customers but also for its owner. :) And here is why:
Saving money on renting a room. Often, when renting, there is a need for repairs, shops arrangement, purchasing shop windows, and suchlike. This requires significant expenditures, which are especially noticeable for the business at the initial stage.
A broad audience of customers. The number of potential buyers is not limited to residents of a street, district, or city. The client can be from a neighboring house or live on another continent.
Effective advertising of your shop. Which is more effective: place a banner somewhere on the street or do the same on the Internet? Contextual advertising, SEO promotion, e-mailing, promotion on social networks is available for online business...
The possibility to automate the sales process. When your business gathers speed, you can simplify routine processes and focus on more important things. Automation will reduce the number of employee errors and the load of the accounting department, which allows a more thorough accounting of goods. Products like 1C, CRM will help with this task, with auto-loading of goods and monitoring employees' tasks will help, for example, Bitrix24.
What you should know before opening an online shop
High-quality equipment is necessary for the stable operation of the e-shop. Insufficient power of resources will slow down the work of the site and affect the number of sales.
According to statistics, the average page loading time of the e-commerce segment is 6.7 seconds. At the same time, those sites with a download speed of more than 6.7 seconds sell nine times less than their faster competitors! But the download time that users want is 2 seconds. In addition, about half of all online shop owners lose their customers because of the slow site operation. There is no desire to replenish these sad statistics, is there?
Extra investments in expensive equipment may not pay off. And it is not always necessary if your online store is not very loaded with visitors or is just starting its work.
The issue of sites scalability is related to resources. When the e-shop starts actively gathering pace, you will have to invest additional funds in new and more powerful servers. But what if it does not gather enough pace? These could lead to frozen funds, emotional struggles, and a need to do something with the equipment.
How the cloud will help in the work of online shops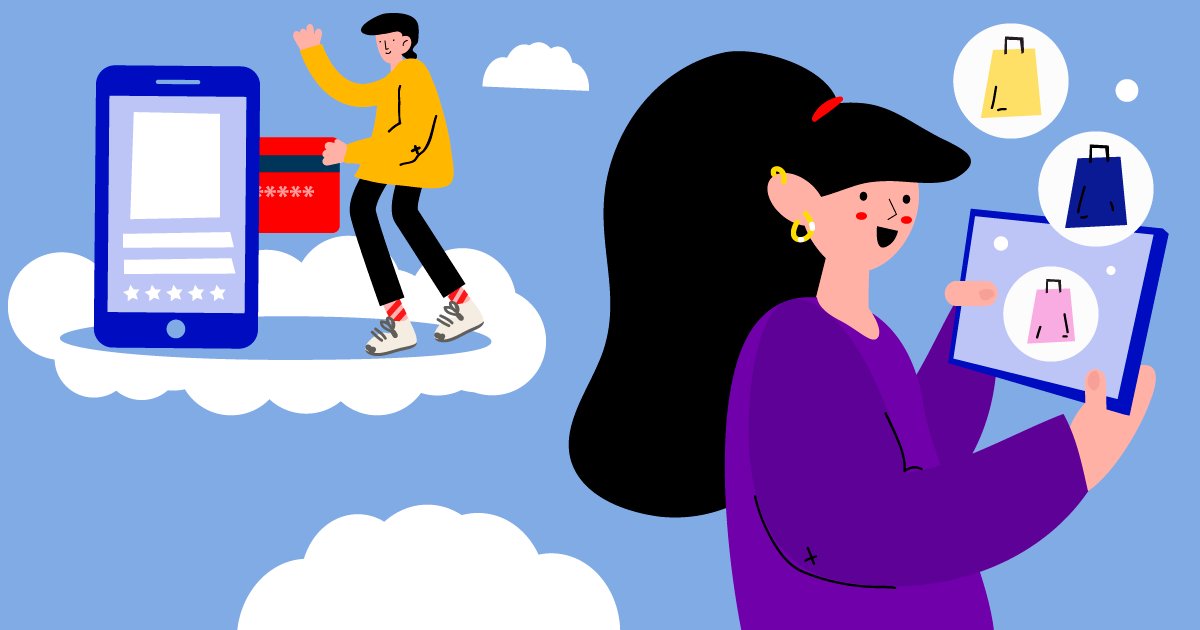 One of the best solutions for the stable operation of the e-shop and saving investments in business is the use of clouds. The operation of the online shop based on physical servers (a usual approach) and cloud infrastructure (a wise approach) looks something like this:
Online shops at the opening stage.

The usual approach: calculate the necessary IT equipment resources, find out and compare prices. At the same time, the calculation is approximate and for the short term since business development is difficult to predict. You invest heavily in equipment and then in the purchase of goods. Rent a server room or take up space right at home. You calculate the material investments and think with horror how long it will pay off.
A wise approach: decide what you will sell and the number of goods you need to purchase. Predict a load of sites and the number of visitors. Next, choose a reliable cloud provider (see how to do it here) according to all criteria Tucha.ua is your choice; call or write, consult about the necessary service, and very soon you will be working in the cloud. In the process of work, adjust the number of resources in accordance with the actual workload.

The online shop is actively working.

The usual approach: your work is tied to the server since you conduct business only from a particular machine. If you need to leave the business, there are two options here. You are either nervous because of the disruption of plans and stay to work, or you still leave the business. Even if it is for a while, it is a loss of customers and money. Power outages and equipment failure also put the entire business on pause.
A wise approach: you are going on a business trip/vacation/journey, and the desktop is everywhere with you. It can be accessed on any device 24/7. All you need is an Internet connection.

The load of the online shop has increased significantly (or decreased), which affects the performance of the site.

The usual approach: leave everything as it is and wait. There are several options: the site starts working slowly, intermittently, and again you need to prepare funds for purchasing equipment. Or part of the resources remains unused, and you regret the pointlessly invested funds.
A wise approach: call Tucha.ua tech support and inform them about the need to increase or decrease the number of resources; after a few minutes, you restore the effective operation of the shop.
And cloud solutions for business are the preservation and security of your data. Most of the data centers of Tucha.ua are located outside of Ukraine (mainly in Germany), and all services operate in the computing cloud based on Tier 3 data centers or higher. The service level is 99.0-99.9%, depending on the location.
Which Tucha.ua service to choose for hosting an online shop
For your convenience, we have created three e-shop hosting services — TuchaFlex+, TuchaBit (for Windows-based systems), and TuchaHosting. The choice depends on your needs. 
TuchaFlex+ — virtual servers of any configuration with data centers in Europe (mainly in Germany). The service will be the best solution for highly loaded online shops with a large number of visitors. TuchaFlex+ is a flexible service, so you decide for yourself how many and what resources should be on the server, and also choose the desired configuration. Guaranteed availability of the service is 99.9%.
TuchaBit — balanced configuration servers at a fair price with data centers in Ukraine. TuchaBit allows you to deploy virtual servers of various scales based on the Microsoft Windows operating system. A Windows Server Datacenter license is included in the price of each server. Guaranteed availability of services is 99.0%.
In the TuchaFlex + and TuchaBit services, reliable data storage is provided by the system of snapshots. We are saving the last two images of your virtual machine disk. They help restore the system to the state before taking the snapshot. Another thing that helps to ensure data security is backups. For this task, we have the service TuchaBackup. Backups are stored in reliable data centers outside of Ukraine.
TuchaHosting is a service for stable and fast hosting of websites and mail with outstanding support. TuchaHosting is suitable for solving your tasks if you are opening a small online shop or you have a project that is not too loaded. The service places your online shop on reliable virtual servers outside Ukraine (mainly Germany). Guaranteed availability of TuchaHosting is 99.9%.
Depending on the site load and the number of visitors, TuchaHosting provides several configurations: 2, 10, 25, 50 GB, and higher. You can easily switch to another package when resource requirements increase.
With Tucha services, you get secure information storage and round-the-clock access to vital data from anywhere in the world.
If you do not want to figure out for a long time which service is suitable for solving your problems, call or write to us! We will suggest not only a decent but also a profitable solution so that your online shop will work stably and quickly, perfectly withstand the current load and peak influx of visitors. And, importantly, such a service will save you money and allow you to pay only for the resources you need.
E-shop hosting services calculator
You can calculate the cost of any service yourself. To do this, we have created calculators for each service: TuchaFlex +, TuchaBit, TuchaHosting. However, we recommend starting to use our help at this stage. It is free and does not oblige to anything, but it guarantees the best choice of solution given our substantial experience.
If you have a question or you need help in choosing the service, the necessary configuration, and cost calculation, contact us. We will help 24×7!
Questions that you may have when placing an e-shop in the cloud
What should I do if I do not trust the provider and am afraid to place data in their cloud? Choose a reliable supplier whose responsibility can be verified by several factors. How to do it correctly — see here.
Will they help me with moving my site to the cloud? Yes, of course, we will help you with migration. If you have chosen the service TuchaHosting, we will transfer your site for free. We also help clients of TuchaFlex+ and TuchaBit with data migration and virtual server settings in the Tucha cloud. Migration assistance is 100% of the cost of the server and is paid once if you need a "seamless" migration. If there is no such a requirement, in most cases we will also help.
Will I be able to change the number of resources? Yes, you can increase and decrease the number of resources as needed. The service TuchaHosting is easily scaled by switching from package to package. TuchaFlex+ and TuchaBit are also flexible and scalable.
What about server administration and support? We provide 4 types of support: free basic support, constant server administration, hourly server administration, and warranty support. Read more about each type of support here.
For what kind of online shops are clouds suitable? Clouds are suitable for all types of online shops. The only question is choosing the right service, which depends on the load of the site, the number of visitors, and suchlike. Clouds are an excellent solution both for an online business that has been operating for a long time and for one that is just opening.
I want to try and evaluate the work of my online shop in the clouds. Is it possible? All Tucha services have a 7-day free trial period. During this time, you will be able to evaluate in practice all the advantages of hosting your business in virtual infrastructure and the convenience of working with clouds.
Summing up
It is never too late to take care of the quality of the site operation. Clouds are an excellent solution for hosting an online shop at any stage of its work because it is reliable, convenient, and profitable.
1. Your data is placed in reliable data centers outside Ukraine (mainly in Germany). It means that attackers have virtually no chance of gaining access to them. All data centers that we use have Tier 3 security level or even greater, which ensures fault tolerance and the ability to work with services even in case of power failures.
2. Additional reliability of data storage when using a separate server for hosting sites (TuchaFlex +, TuchaBit) guarantees the system of snapshots and the ability to create data backups. It allows you to restore the system and individual files after critical changes.
3. The ability to manage the site is available to you on any device and from anywhere in the world 24/7.
4. Clouds ensure fast and uninterrupted operation of the site.
5. You save investments in IT equipment and pay only for the resources you really need. At the same time, there is no need to upgrade physical servers later it is on the cloud provider.
6. You save money on server maintenance. This task falls on the shoulders of our technical support service (the area of responsibility depends on the type of support you have chosen).
The secret of your online shop's success lies not only in the wide selection of products and the quality of service. A lot depends on the speed and stability of the site; it affects the reputation of your business and attracts customers.
Do not lose customers, time, and money: switch to the cloud from Tucha.ua and see how convenient and profitable it is!