TuchaKube container infrastructure service is available for the construction of high-load IT systems and development management
TuchaKube container infrastructure service is available for the construction of high-load IT systems and development management
From now, all users can use the service of launch applications in the container cloud from Tucha is available. This feature is implemented by the TuchaKube platform, which is based on Kubernetes clusters. The service helps you automate some of the work related to CI/CD processes.
TuchaKube is a platform for automating CI/CD processes, hosting applications, and their data in the container cloud.
For high-load IT systems, TuchaKube service provides:
fault tolerance and easy scaling;
maximum performance of the disk storage;
efficient traffic distribution.
This is achieved by simultaneously running multiple identical replicas on different nodes, distributed storage systems, and dedicated load balancers.
TuchaKube for development management is:
quick creation of test environments;
standardization of development in distributed teams;
automatization of CI/CD processes with the help of Tucha DevOps engineers.
All microservices required to run an application are packaged as stand-alone images that can be run multiple times in a cluster. A geo-distributed cluster provides a high level of system fault tolerance, horizontal scalability, and maximum efficiency.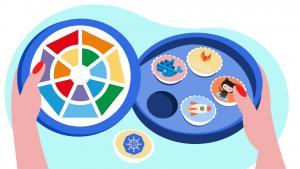 Main feature of TuchaKube
The main feature of TuchaKube is the automatic launch of processes such as building, compiling, testing, packaging, containerization, and publishing an application in both test and production environments. Any other processes can also be performed depending on a client's needs. Among the features of TuchaKube are collecting and storing statistical data, monitoring, clustering, horizontal scaling, and much more.
Since the platform is based on Kubernetes clusters, all the standard functions of this cluster are available.
According to Volodymyr Melnyk, Technical Director of Tucha, one of the main features of TuchaKube service is that a development team does not even need a DevOps engineer to get automatic CI/CD processes. All these operations work "out of the box" and are supported by Tucha DevOps engineers.
Currently, there are three service configurations available: a trial, a starter, and a dedicated package. They differ in the Kubernetes cluster resources, storage, repository, Percona XtraDB Cluster database, and cost. You can add any number of resources you need to meet your needs and test the service for free within 7 days.
For more information about container orchestration in the cloud and TuchaKube service, see the service page.
On our YouTube channel, you can find a video review of TuchaKube features on an example of working with the specific application.
In the meantime, we are preparing several videos that will show you how to work with the platform, including horizontal scaling, clustering, monitoring, and so on.
Write or call us and we will help you choose the best solution for hosting your application in the cloud and solving tasks related to CI/CD automatization.