CRM systems in the cloud
CRM systems in the cloud
Times when managers kept their records about customers in notepads, or at best in Excel, are gone. Nowadays, there are many effective tools for interacting with customers, improving the quality of work with them, increasing sales figures, and optimizing marketing. CRM systems are perfect examples of such tools that help manage relations with customers. However, the stable work of these systems requires high-quality hosting. And cloud solutions from Tucha will help you with this.
CRM systems: what it is
The popularity of the CRM systems in Ukraine is growing. Of course, it will take us a long time to get up to the number of foreign enterprises using the CRM systems. For example, in the United States, this figure is about 90%. However, the dynamics in Ukraine is also positive. Over the past year, the number of companies that use such new solutions has doubled.
So, let us look at what the CRM system is, its advantages, and how it simplifies companies' work.

CRM system is an application software for businesses that helps interact with customers more effectively, organize, plan, and manage work with them.
In particular, this solution helps:
Collect and store information about each client, record all calls and messages. So, no customer requests will remain unanswered, and managers will not forget to call a user in time.
Unite all channels of communication with clients in a single space.
Track customer needs, preferences, and segment users.
Control an entire sales process (generate reports).
Get real-time analytics.
Maintain document flow.
Work with a billing system and online payments.
Track calendars with workflows, projects, and tasks, and so on.
Despite all these list features, the CRM systems also help improve companies' performance because they provide the following advantages:
High lead conversion rate due to collecting and processing customer needs.
Increase customer loyalty by building customer-oriented work.
Simplicity and transparency of all work processes.
Increase in sales figures.
Planning of enterprise development based on the received statistics and analysis.
Optimization of marketing campaigns.
The most common CRM systems used by Ukrainian companies are amoCRM, Bitrix24, Terrasoft, Hubspot, Zoho, and others. And most often, companies that work in sales, IT, manufacturing industry, transport, and communications, as well as companies, provide services organize their work in the CRM systems.
So, such a powerful tool with lots of different features and instruments is outstanding for improving the company's efficiency and sales. However, unstable, or slow operation of the software can negatively affect the entire enterprise operation. To prevent this, make sure that you have a reliable hosting service for your CRM system.
Advantages of the clouds for the CRM systems
Cloud hosting from Tucha for the CRM systems is:
Stable and fast operation of the software. The cloud services from Tucha help ensure high-quality operation of the CRM system because they have guaranteed availability of 99.0 and 99.9%, depending on the location of data centers. Also, the operation of the systems does not depend on the IT equipment capacity used in the office.
Reliable data protection. All information is stored outside the company, namely on virtual servers, so it is much more difficult for hackers or unauthorized people to get access to this data. Also, a 
snapshot system that is already included in our TuchaFlex + and TuchaBit services provide additional protection, as well as the ability to make and save data backups with TuchaBackup service.
Cost-saving. With the clouds, you do not need to spend money on purchasing powerful IT equipment, updating it, and replacing it. You can configure the service according to your specific task, and all resources can be easily scaled to meet the needs of the company.
Mobility. You can work with the CRM system anywhere and anytime, and you do not need ultra-powerful hardware to access the software. Since you can connect to the work environment from any corner of the world from your smartphone or tablet. The main thing is the availability of Internet access.
Tucha services for hosting CRM systems and more
For hosting the CRM systems in the cloud, we offer the following services:
TuchaFlex+ — virtual servers of any configuration with data centers outside of Ukraine (mainly in Germany). Guaranteed availability of the service is 99.9%.
TuchaBit — cloud servers with balanced configurations with platforms in Ukraine and guaranteed availability of 99.0%.
The difference between these two services is in the flexibility of configurations, guaranteed availability, territorial location of the data centers, and, respectively, in the price.
To create and store backups of individual files, we created the service TuchaBackup. It will help you restore important data, documents, and archives in case of critical situations. And you can place files of any format in the cloud, sync them, and share them at any time thanks to the cloud storage TuchaSync. The service stores data on remote servers outside of Ukraine (mainly in Germany).
You can calculate the required service and its configuration: to do this, use the calculators TuchaFlex+, TuchaBit, TuchaBackup, and TuchaSync. But if you do not want to spend a long time going into details of the services and selecting the necessary ones, please contact us. We will be happy to help you choose the right service.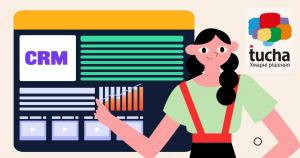 Conclusion
The CRM system is an excellent solution for automating the company's work, improving customer interaction, and sales. And to get the most out of it, take care of high-quality hosting for the CRM system together with Tucha clouds. They will ensure high-quality and fast operation of the CRM system, help you securely place and store data, provide stable access to it, and save money on IT equipment. And we are always ready to help and choose the best solution for your tasks. Call or email us 24×7!