Dedicated virtual or physical servers? Each task has its own solution
Dedicated virtual or physical servers? Each task has its own solution
The choice of remote servers is becoming wider. How to choose the most suitable solution for your task among all the variety? We propose to get a grasp on the types of remote servers that we offer for rent to our clients and find out in which cases virtual machines with their significant advantages will be most useful, and when it makes sense to pay attention to physical servers.
The advantages of remote servers over local ones
In terms of functionality and capabilities, remote machines are in no way inferior to local servers in the office, but they significantly exceed them in terms of security and reliability. Firstly, thanks to placement in special data centers, and not in a company's office, where unauthorized persons can gain access. Secondly, remote machines are easier to deploy and do not require significant initial investments in the purchase of equipment, and subsequently its maintenance.
Also, working on remote servers allows you not to depend on a single source of communications (for example, power supply in the office) and provides the possibility to additionally strengthen data storage security thanks to special tools: full snapshots of each server disk, the ability to create and store backup copies of files, setting up an alarm button mechanism, and much more. All this, together with high rates of guaranteed availability of services, makes remote servers a more convenient and profitable solution for work than local counterparts.
Now, let us talk in more detail about the main types of remote servers that are available thanks to Tucha services — dedicated virtual and physical machines.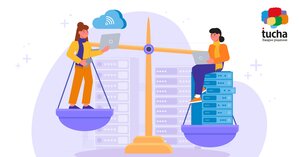 Virtual Servers (VPS)
First of all, we always recommend working on virtual servers, because they have a number of advantages over physical ones:
virtual servers' operation is provided by the computing cloud;
they have a higher level of fault tolerance;
VPS scaling is fast, so you can work on updated resources within a few hours after the corresponding request;
for virtual machines based on most Tucha services, it is possible to regularly create and store complete snapshots of each server disk.
What can be placed on virtual servers
VPS is perfect for transferring programs, applications, and almost any data for the entire company operation to the cloud. On the servers, you can organize a workplace for each employee with all the applications they need; as well as set up convenient 24×7 access to the workspace from anywhere in the world.
Another popular option for using virtual machines is the targeted placement of software and other data for the work of the company's specific departments or employees. These may be accounting software (M.E.Doc, different versions of 1C: Enterprise), project management systems, various applications (such as "client-bank"), etc. In addition, the servers will help ensure the stable operation of CRM and ERP systems, office IP telephony, the company's website or online store, corporate mail. Databases, archives, documents, file backups, and other similar data can also be stored in the cloud.
Tucha services with available VPS
We offer several options for cloud services designed to solve different tasks:
The configurations of each of the services are easily scaled.
A detailed comparison of all the services based on remote servers (both virtual and physical) are available for rent, read and see here.
Resume
Virtual servers for hosting data differ from each other in the territorial location of data centers, the level of guaranteed availability of services, the features of scaling resources, the availability of additional data protection tools, and the cost of the rent. But all of them help to achieve stable and convenient work for both the company as a whole and its employees. And most importantly, among the Tucha virtual servers, each client will find the right solution for their task.
Physical servers
If the load on the server is super-high and the capacity of virtual server resources is no longer enough (for example, in the case of hosting large-scale online stores with more than 10,000 items of products), the option of renting physical servers hosted on remote platforms will likely be appropriate. Such a solution implies providing the customer with a dedicated machine in a server rack in the data center. All server resources are in total control of the client during the renting period.
What can be placed on physical servers
As already noted, physical machines can be useful when it comes to solving tasks that have a high load and increased demands on computing resources. In addition to hosting websites or online stores with a large number of products or visitors, it can also be:
hosting online games or other web projects related to complex computing processes;
web application development;
storing substantial amounts of data, etc.
The service from Tucha that is based on physical servers
TuchaMetal is the service of renting physical servers. Its capacities are located in European certified data centers corresponding to Tier 3 security level or higher (in France). A nice bonus is the provided opportunity to use the cloud storage of the service TuchaBackup (in the volume of disks of the rented server). Guaranteed availability of services is 99.9%.
Resume
Physical machines have their own purpose and features in operation, and also differ from the capabilities that virtual servers provide to clients. Such a solution is likely to be appropriate if we are talking about tasks with really high server loads or in other cases when for some reason, virtual machines are not suitable for customers. Physical servers based on TuchaMetal in the desired configuration are provided to clients if there are available resources.
About technical support
Whichever option of remote servers the client chooses, there will be a sensitive and qualified Tucha round-the-clock technical support team. We start working on clients' tasks immediately after the request and provide meaningful and swift communication in the first 13 minutes. The scope of authority assumed by the Tucha technical support team depends on the type of technical support chosen by the customer. Reviews from customers and partners will help you learn about the quality of the cloud services and the work of the Tucha team. Get to know and see all the advantages of clouds on your own experience!
Conclusion
Given the numerous advantages and ease of use, before everything else, we recommend you start working in the clouds on virtual servers. They will perfectly manage the vast majority of tasks that modern companies have, and the variety of Tucha services will help you choose the most suitable solution. But if the client has a real need for powerful computing resources, then in some cases it makes sense to consider physical servers for rent. In a word, each client has its own cloud solution from Tucha.
We are always ready to help you in selecting the right service and configuration in accordance with a specific task. Call us at +380 44 583-5-583 or write to our email address sales@tucha.ua. Tucha is always glad to you!