How to organize hosting of boxed CRM-ERP systems in the cloud from Tucha
How to organize hosting of boxed CRM-ERP systems in the cloud from Tucha
Some popular software products that benefit from cloud hosting are CRM and ERP systems. Today, almost every company already works or plans to implement such a solution to systematize work with clients. To ensure uninterrupted operation of CRM-ERP systems and provide specialists with stable access, we recommend hosting software products in the cloud. Read on to find out about the benefits of cloud hosting for business and how to organize the work platforms on virtual servers from Tucha.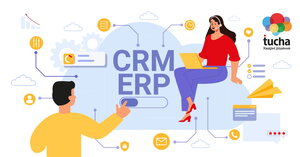 Briefly about CRM and ERP systems
CRM (Customer Relationship Management) is a system that helps businesses manage interactions with clients. It collects, analyses, and stores clients' data, including contact information, interaction, and purchase history. Incorporating a CRM system into a workflow helps companies improve the quality of customer service and boost sales.
ERP-system (Enterprise Resource Planning) is designed for business resource planning and helps manage many processes, including supply, inventory, production, finance, and more. Capabilities of an ERP system will unite all departments and functions of the company, which helps to optimize costs and make better management decisions.
CRM-ERP system is a combination of CRM and ERP systems in one software product. Such a solution helps companies effectively manage business processes: attract and retain clients, optimize business processes, and increase efficiency and revenues. Therefore, the main goal of implementing CRM-ERP systems is to streamline business workflows and increase overall productivity.
About the advantages of hosting software products in the cloud
You can place CRM systems on virtual machines (VPS) in the cloud or on your own physical servers in the office. We considered the advantages of cloud hosting for software products in detail in a separate article. Let's highlight the key point: virtual servers operate in data centers equipped with protection systems and backup channels for all essential communications (such as power supply internet connection etc.). And thanks to the remote hosting of information outside the office or the country, data is further safeguarded against unauthorized access by third parties and intruders.
Now, let's discuss the benefits that companies can gain by hosting CRM-ERP systems in the cloud from Tucha:
Fault tolerance and stable data access.
Guaranteed level of service availability is 99.0-99.9%. Everything depends on the selected service (TuchaBit, TuchaBit+, or TuchaFlex+) and territorial placement of data (in Ukraine or abroad).
Ability to work from anywhere.
Employees can connect to the CRM system hosted in the cloud from any part of the world where there is an Internet connection. This allows you to be independent of servers in the office and work from different cities, countries, and continents.
Availability of additional data protection tools.
An important tool for strengthening information security is the regular creation and storage of complete snapshots of each server disk. They will help restore the machine's disk to the state it was in at the time the snapshot was created. Creation and storage of snapshots in the German data center is already included in the price of most of our services.
However, snapshots are not a substitute for backup copies of individual files, so we also recommend regularly creating backups of all critical files and storing them using the service TuchaBackup.
To work with a CRM system in the cloud, there is no need to spend money on purchasing your own servers, maintaining, and upgrading them. We will help you choose a configuration that is necessary for your business at the current moment, without incurring unnecessary costs for excess resources.
Easy to increase configuration when needed.
If the load on the server increases (for example, the number of employees or the volume of data increases), it is quite easy to expand the configuration: just notify Tucha technical support, and in a matter of hours we will add the necessary resources to the machine.
Storage and relevance of information.
You can connect to the virtual server from any gadget, for example, during the day from a PC or laptop, and in the evening from a smartphone. The data and changes entered into the system are stored and remain accessible and remain available the next time you connect from any other device. This allows you to conveniently continue working at any time.
The Tucha technical support team is by the side of the clients at every stage of cooperation, assisting both during the deployment of a CRM system in the cloud and throughout their ongoing work on the server. Our specialists are ready to answer questions about hosting at any time and provide prompt assistance.
What CRM systems can be hosted on virtual servers
VPS are suitable for hosting boxed versions of almost all CRM systems of foreign and Ukrainian developers. To find out whether this or that system can be placed in the clouds from Tucha, contact our specialists of the Solution Selection Service. 
And if you are currently planning to implement a program or find a replacement, we will be happy to recommend partners who will help you decide and integrate the system into your work. From our side, no matter which option the client chooses, we will help you select the cloud service and resource configuration and organize the deployment of the program on the server.
By the way, virtual machines can also be used to store other web applications and data for a sales department specialists' work, such as IP telephony, documents, archives, files, and so on.
How to host a CRM system in the cloud
The algorithm for organizing the hosting of software products in the cloud is as follows:
Step 1. Selecting a CRM-ERP system for implementation.
And if you already work with a certain platform, it can also be transferred to dedicated virtual servers.
Step 2. Selecting a cloud provider.
A checklist will help determine a reliable provider of cloud services. It contains a list of important criteria using which you can compare several providers and select the best one.
Step 3. Service selection and resource configuration.
The selection of the service and set of resources is carried out individually for each client's task. We usually ask our clients the following questions for this:
Where is the preferred location for data storage — in Ukraine or abroad?
How many employees will work with the system?
A classifier or an article on navigating cloud services will help you understand the difference between types of virtual servers.
Step 4. VPS deployment.
The technical support team of a provider deploys a virtual server of a chosen configuration and performs initial settings on it for the operation of a software product in the cloud. 
Step 5. Deployment and configuration of a CRM-ERP system.
An integrator team chosen by the client to implement the system receives the access details to a virtual machine from a cloud provider. Afterward, it performs all the necessary actions, installs, and configures the platform, and fills it with the modules and data required by the client.
Step 6. Obtaining server access details and starting to work with the system.
After making all the settings and checking the operation of the CRM system on the server, the client receives access details to the VPS and starts working with the software product. Visual instructions will help simplify the first steps of using a remote server. 
About technical support
It is important to distinguish the areas of responsibility of a CRM integrator and a cloud provider. A company that implements and configures CRM for the client is responsible for the operation of the system as a software product (updates, licensing, etc.). On the side of a cloud provider — responsibility for the stability of work and availability of the virtual server on which the system works.
Tucha offers four types of technical support, among which each client will be able to choose an option they need.
High-quality technical support from both a CRM systems integrator and a cloud provider is an important factor for convenient work with the software product. Before starting cooperation with each contractor, we recommend evaluating the speed and level of technical assistance.
Summary
Choosing reliable hosting for software products is an essential step to ensure that employees do not lose customer data and monitor and complete tasks on time. Placing CRM-ERP systems in the cloud from Tucha will help strengthen information protection and provide the team with convenient access to it at any time. 
If you are currently planning to move your CRM to a virtual server, do not hesitate any longer and contact us to choose the right solution.