Successful partner case: how to become a backup storage provider for your customers
Successful partner case: how to become a backup storage provider for your customers
The case can be used as a ready-made idea for starting a business or a new direction in it, or as an illustration of the fact that based on our cloud, you can beneficially implement almost any dare fantasy for yourself and your customers.
Baseline and background
Orbis-T helps other companies optimize and make financial accounting more convenient using 1C.
The company also sells 1C to its customers and additionally provides informational and technical support (ITS).
Until recently, customers took care of data security and backups by themselves. And sometimes, they did not care about it. At the same time, the partner still had to deal with the sad consequences of such carelessness.
What the idea is, and how it was implemented
Recently, Orbis-T started using our services to make their customers' lives better and their sleep stronger. And that's how it was.
To provide services as a package, the company decided to provide customers with reliable data protection and added to its service line a proposal for storing backups on remote foreign servers.
To do this, Orbis-T buys a large amount of cloud storage from us at a significant discount and a small virtual server to manage this storage — only 2 processors, 1 GB of RAM, and a 10 GB SSD disk. These resources are enough for the operation of an operating system, a control panel, and a file access service, which are stored in separate storage that can only be accessed from this server.
Schematically, the solution looks like this: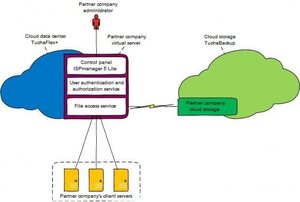 We helped set up storage in such a way that the company can distribute it to customers in small volumes (60 GB) and act as a cloud storage service provider itself.
It is important to note that we do not limit the partner in pricing for customers in any way. The partner determines what price to put to make a profit.
Everyone wins
This scheme of work brings only benefits:
Customers receive a more complete package of services. This is convenient for them because everything comes from one source. Also, they are guaranteed to be informed about the need for backup and know that it is easy to do with the help of a trusted partner.
Orbis-T receives satisfied customers, additional profit (including on backup setting up services), and our traditionally high-quality technical support for their service.
We also feel great in this situation, as well as bring use. What more can we ask for? :)
A good reason to think
Orbis-T decided to make their customers' lives better and found the solution when everyone wins. You can also use our services to earn more and give your customers more convenience and increase their loyalty.
To repeat the successful experience, discuss a new idea or ask additional questions, call or write to us. You are welcome 24×7.
Tell us about your task
Our experts will contact you soon and help you choose the best solution