TuchaBit+ virtual servers: achieve maximum performance!
TuchaBit+ virtual servers: achieve maximum performance!
The requirements for cloud computing speed are constantly growing. Massive needs for remote work and the use of software, which is becoming more complex, facilitate this. At the same time, an affordable cost of services is still an important criterion. The solution that meets today's requirements for cloud resources and the advantages of which have already been appreciated by Tucha customers is the service TuchaBit+. In this article, we will tell you more about its features, pricing, and scaling principles.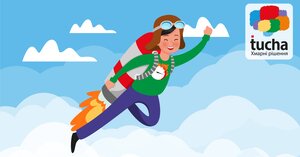 If you need a modern solution
The service TuchaBit+ offers virtual servers (VPS) for hosting web projects with high-performance requirements. The solution works on the basis of modern Intel Xeon Gold 6248R processors with a clock frequency no less than 3.0 GHz, which helps to achieve high speed in operation. Data exchange with the storage is carried out through a 10-gigabit network.
The capacities of the service TuchaBit+ are located mainly in Ukraine, but it is also possible to place data abroad (in Slovakia) - at the customer's choice and if resources are available. Guaranteed availability of services is 99.9%.
Principles of TuchaBit+ pricing and scaling
The service consists of virtual units, i.e. balanced sets of resources. 1 unit includes 2 GB of RAM and 15 GB of SSD disk space. Cores of the central processing units (CPU) are allocated to the server depending on the number of units that the server consists of. If there is a need for more cores, they can be flexibly added for an additional fee. In addition, you can connect additional HDD storage to the server.
By default, 1 IP address is added to each virtual machine. You can additionally order IP addresses from the main address pool or a third-party address range.
If more resources are needed during operation, the service is simply scaled by adding the required number of virtual units. The customer decides how many units should be on the server, adds and removes them in accordance with the current need for resources. You can order any number of virtual machines, as well as combine them in a network without traffic restrictions.
Modernized solution
TuchaBit+ is an updated version of our popular service TuchaBit with several technical improvements. In addition to infrastructure modernization, the solution has more efficient technologies for data exchange between nodes and updated policies for planning computing resources utilization.
Let us compare the main characteristics of the services:
 
 
TuchaBit
TuchaBit+
Territorial location of data centers
Ukraine
Ukraine
Slovakia
Level of guaranteed availability of services
99,0%
99,9%
Processor clock speed
2.4 GHz
No less than 3.0 GHz
The principle of billing and scaling
Consists of virtual units. 1 unit is:
Consists of virtual units. 1 unit is:
The cost of renting 1 unit
9 euros/month + 1 IP address that costs 2 euros/month
10 euros/month + 1 IP address that costs 2 euros/month
The ability to connect additional HDD storage
-
+
Software licensing
Windows Server Datacenter license is included in the price 
Licenses for using Microsoft software can be ordered from us or you can use your own
Test period
7 days
7 days
Cloud service for different tasks
First of all, it is possible to deploy a remote office on the TuchaBit+ virtual server. It means that you can place programs, data, and documents for the work of all employees. Another option is to transfer specific applications or programs for individual specialists or departments of the company to the cloud. These can be:
accounting and financial reporting programs (for example, different versions of 1C: Enterprise);
software for reporting and e-document management (including M.E.Doc);
project management systems or other specialized programs;
CRM or ERP systems;
applications of the "client-bank" type;
IP telephony;
websites, including sites with an increased load and a large number of visitors;
corporate mail, etc.
About software licensing
Since its inception, Tucha has been offering customers services of renting licensed software from Microsoft based on the Services Provider License Agreement (SPLA) program. It means that customers with full compliance with the license conditions can rent from us software products such as Microsoft Windows Server Standard, Microsoft Remote Desktop Services (RDS) terminal access licenses, and others. If the customer has their software licenses, they can also install and use them to work on the virtual server.
Reliable technical support for working in the cloud
With Tucha, you get not only ultra-fast VPS, but also responsive multilingual technical support that works 24×7. Specialists immediately start working on the client's request and, on average, provide a meaningful response within the first 13 minutes after the request. Our team has experience in solving cloud tasks since 2012. That is why, according to customer and partner reviews, Tucha's technical support is the best on the market.
We will help you transfer programs, data, and other necessary settings to the cloud on loyal terms. And throughout the entire period of cooperation, the technical support team will be nearby and will facilitate the stable operation of the physical infrastructure. The rest of the authority will depend on the type of technical support that the client will choose.
Conclusion
Thanks to the modernization of several technical solutions at once, we managed to create a service that meets all modern expectations from the speed of processes. This allows us to provide productive virtual servers for projects that have heightened speed requirements at an affordable price.
Achieve maximum performance with the service TuchaBit+! Write to our email address sales@tucha.ua or call +380 44 583-5-583. Tell us about your task, and we will help you find a suitable cloud solution. You are always welcome!