Remote work will save the world. And business
Remote work will save the world. And business
Given increased quarantine measures and the transition of companies to remote work mode, the need to organize virtual offices is increasing. 
If you also need to organize remote workplaces quickly and at an affordable price, we will help you! Contact us 24x7. We will answer all your questions and provide quick assistance in organizing your team's remote work.
A remote desktop and virtual office — what is hidden behind these terms? And why is remote work becoming the only and irreplaceable solution even for those companies that are used to working exclusively in offices?
In this article, we will look at the benefits of working remotely, with an emphasis on how remote work in the cloud helps keep your company running even under quarantine and forced isolation. We understand that this topic is extremely acute and causes a lot of disputes and accusations of speculation. And we consider it necessary to remind you about the capabilities of the clouds for work in any conditions. Without panic, but to the point.
What is a virtual office?
A virtual office is a terminal server in the cloud that hosts the required software, important company data, and user accounts. Everything on the server is for general use. And each employee, depending on their needs and given rights, can use only the programs they need for work. The server can host everything from archives and documents to CRM and ERP systems, professional software, corporate mail, project management systems, etc.
Скільки це коштує
The organization of remote work through the cloud is affordable. For example, for a team of up to 5 people working with an average load on a virtual server located in Germany, the cost of the solution will be 82 euros per month. Our service TuchaFlex+ will help you with this task. You can also use more budget option by deploying workplaces on virtual servers in Ukraine. With TuchaBit service, for the same number of employees and the same workload, the cost of working in the cloud will be 47 euros per month.
You can deploy a virtual office for any number of employees. We will help you choose the solution according to the needed number of resources and the cost.
Who this service is for
Managers, company management, sales and marketing specialists, IT specialists, lawyers, and any other employees whose full-fledged work is possible outside the office. Remote desktop allows you to work from home like in the office, be connected, complete all tasks, and control important processes.
Accounting. Often there is no need to keep a staff of accountants full day in the office, regardless of the company size. An accountant can check and send documents, generate reports and calculate wages remotely, not only during the quarantine. Besides, this approach will help to provide additional protection of information from possible leaks.
Outsourcers and third-party specialists. Contractors' services are usually required for a certain period. Under any conditions, it is easy to provide outsourcers with limited access to the work environment with programs and data they need, and after the end of the collaboration, close it in a few clicks. At the same time, the clouds will ensure constant communication with contractors and work in a single space. As for third-party specialists, this form of work allows you to enlist them from any city or country, as well as save on the arrangement of physical workplaces.
Of course, this is not a complete list of specialists for whom remote desktop access will be useful. But we have given just a few examples to prove that this form of work is available and convenient for most specialists.
When you cannot do without remote access
In fact, it is not easy to list all the cases when may appear the necessity of remote work organization. Here are only those that are very common:
Of course, the most relevant case is during the epidemic and quarantine. Restrictive measures inevitably affect the company's full operation, and stopping it at all is not the best solution. Clouds will help organize the work of employees from home and protect them from possible risks. And the company will ensure further operation capability with minimal investments and expenses.
When away on business or vacation. Just a few seconds — and you are in touch with customers, partners, and the entire team.
During meetings, negotiations, and conferences. Remote access to the desktop allows you to always have the necessary materials or presentations at hand.
If there is no power supply or an Internet connection in the office. The cloud workplace does not bind a user to a chair. It means that you can move home with your laptop or tablet or to the nearest place with all the necessary communications and continue to work.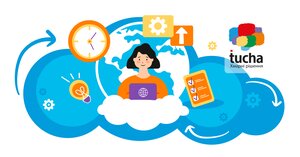 Remote desktop features
Access to the work environment from anywhere in the world. For connection, you only need an Internet connection and a gadget. You can use a PC or laptop with even basic technical characteristics, as well as a tablet or smartphone. The desktop with programs, data, and files opens in seconds. Of course, for connection, you need to use a special password. But these are not all tools for protecting information when working with the remote desktop.

Connection security. Not everyone will be able to connect to the remote desktop. Access is only possible for the users and devices that were previously included in the list of allowed users and devices on the terminal server. Additional protection can be provided by using encryption of communication channels and set a special key for logging in. Tools that allow you to control all user actions on the server also increase the level of information security.

Unified space for work. Clouds unite all employees in a single environment, even if team members are on different continents. For example, you can host any software in the cloud that allows you to share information quickly, distribute tasks, monitor their execution, and monitor all changes. You can also install specialized applications that will help users conduct, for example, meetings with colleagues or online meetings with partners in remote access mode.

Reliable placement of data and programs. A cloud workplace does not require real servers in the office with all the important information. This will help protect your data from falling into the hands of unauthorized persons or intruders.

Substantial savings for business owners. It's not just about saving on IT hardware: purchasing, maintaining, replacing, and scaling resources on time. You can also significantly save on renting or buying premises, utilities, arranging comfortable workplaces, spending on coffee, tea, goodies, etc. If you calculate, you will see that these are great monthly expenses. It is especially noticeable for companies that are just starting their work and startups that usually do not have much money at the start. Therefore, it would be more reasonable to invest money in the development of the project. Remote work is also indispensable for small and medium-sized businesses that work exclusively online, and their employees are located in different cities or countries.
And one more thing
Almost the only thing that will help to maintain companies' performance in modern conditions is the ability to organize remote work in the clouds with minimal investments. Unfortunately, force majeure situations prompt us to reorganize the business swiftly. As for us, we are always ready to advise you on working in the cloud and using the remote desktop in particular. And most importantly, we will help you deploy the virtual office and organize workplaces for the entire team quite quickly. Usually, during a day. Contact us at any time! And stay healthy.