Payment methods for Tucha cloud services: A comprehensive overview of all methods
Payment methods for Tucha cloud services: A comprehensive overview of all methods
Our team works tirelessly to ensure that our cloud services meet customer expectations, and that working with services is simple and clear. It is also fair when it comes to paying for the services. In this article, we offer to get acquainted with all available methods, among which each client will be able to choose the most convenient and fastest option.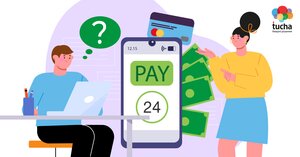 About payment methods
You can pay both for renting cloud infrastructure and for using software licenses in one of the convenient ways:
1. Cashless settlement — payment to the company's current account.
To order an invoice, you need to contact a specialist of the Tucha settlement service via any communication channel:
2. Bank card.
This method provides several payment options.
On the Privat24 website.
A quick solution is to make a transfer on the Privat24 website using the already pre-filled details.
In the Privat24 web application.
To pay in the Privat24 web application in just a few steps, we suggest using visual instructions:
Via the offline terminals of PrivatBank.
You can pay for the use of Tucha services at any available PrivatBank terminal using the following details:
FOP Sukhobok K.V. EDRPOU 2974809628, IBAN UA243052990000026008016218773.
FOP Melnyk V.M. EDRPOU 2915401614, IBAN UA053052990000026003006204714.
3. LiqPay online payment.
it is possible to pay on the Tucha website, using a LiqPay electronic wallet. For this, you need to fill in the data about an individual or legal entity, choose payment from the Liqpay wallet, Visa/MasterCard/Eurocard or through Privat24, and specify the required transfer sum.
4. PayPal online payment or Bank Transfer.
Payment through the international electronic payment system PayPal or using classic Bank Transfer will be suitable for customers who need to pay in euros, not in hryvnias (for example, from abroad). If necessary, We can provide detailed consultation on paying for our services through our partner i Poland — Tucha Sp. z o. o. You can also make a transfer via PayPal on the self-service portal.
Please note that for each of the payment methods, the payment commission is calculated according to the tariffs of the payer's bank.
Important things about payment and accounting documents
The cost of all Tucha services is transparent, published on the website and uniform for all customers.
All our prices are linked to euros, however, payment for services is made in hryvnias (except for PayPal or Bank Transfer, which require payment in euros). The cost of services is fixed for the whole month at the exchange rate of the National Bank of Ukraine on the first day of each month. For those who pay VAT, the price already includes this tax.
Invoices for payment of services are sent to clients by the 5th day of each month. Note that not receiving an invoice is not a reason not to pay for the use of services for the current month. If, for some reason, the invoice has not arrived, you should contact a specialist of the Tucha settlement service. 
Each of our clients receives a complete package of accounting documents: original invoices, work completion reports, tax invoices (for those who need them) and others. First, we actively use M.E.Doc for electronic document management. However, if you require paper versions of documents, we will send them through Ukrposhta.
Cooperation with clients is built on the basis of the Public Agreement (offer). If you require a paper version of the document on joining the offer, we are also ready to quickly provide it.
Write or call us
We will be glad if this article helps you decide on the most convenient payment method. 
In case of any questions regarding cooperation, contact Tucha specialists. We are always ready to help!