Security is a process, not a product
Security is a process, not a product
This is exactly what an American computer security specialist Bruce Schneier claims. As a company that for a long time has been helping businesses work more securely, we know that this task has two main components: usage of reliable tools and assistance to users in data protection. As for the first component — trust programs and data hosting to the clouds from Tucha; and configuring and maintenance to competent system administrators. As for the second component, we have collected simple and specific recommendations so that each user can additionally protect information from loss and access by unauthorized persons. Apply them today!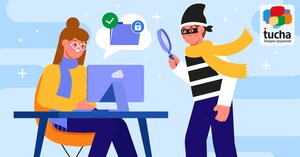 "Password is a verb in the imperative mood"
The correct password is the "key" to safe data storage, which must be owned exclusively by its owner and, if necessary, his proxies. But sometimes, it happens that intruders easily match unreliable keys, and then data leakage is almost inevitable. That is why it is so important to create passwords with complex and non-primitive combinations.
But creating a high-quality password is only half the job. You also need to store it in a secure place ("vault"), to which only the owner of the password will have access. And these are definitely not notes on a smartphone or a computer or notes in a notepad. There are special services for generating and storing passwords, so-called password managers. Among the most popular are EnPass, CommonKey, Dashline, and others. Also, one of the first and most popular is KeePass - a free manager with all the basic functions.
So, the password has been created, the storage has been selected. And if you need to pass the password to someone else? What is the best way to do it: dictate by phone or send a message in a messenger? These and other similar methods could lead to a situation when unauthorized persons or even intruders could get access. You should not risk because we have created a special service for sending text messages, based on a Yopass application. The security of transmitted data, simple interface, convenient operation, and the ability to use it for free are the main advantages of the service. Try it!
Use these solutions comprehensively so that the data is available only to those it was meant for!
Rely on the cloud, but do not be afraid of backups
One of the tools that work for general security is snapshots of server disks. Snapshots are already included in the cost of renting remote servers based on the services TuchaBit, TuchaBit+, TuchaFlex+.
Snapshots are complete copies of the client's virtual machine disks that we create regularly and store the last two. One of their functions is to use the snapshot to restore the machine disk to the state in which it was at the time of its creation.
However, snapshots are not enough. To enhance the security of individual files, we always recommend additionally creating and storing backup copies in a safe place — in the cloud. For this task, the service TuchaBackup will come in handy, which will help you place the backups in reliable data centers in Germany. Guaranteed availability of services is 99.9%. It is important that the service has no restrictions on the amount of traffic and allows transferring large files.
Now let us talk about how to automate the process of creating copies of all important files. In order not to do it manually every time, we recommend using special tools that can do backups according to an individual schedule. For working with backups, you can choose software that is compatible with your operating system:
Among those who prefer Windows OS, the Cobian Backup is quite popular. This article will help you learn how to install and configure this tool for work. There are also other software products: Handy Backup, Exiland Backup, Fbackup, EaseUS Todo Backup, Comodo BackUp, Aomei Backupper, cwRsync, etc. 
As for UNIX systems, one of the most common programs is rsync. In addition, there are many other tools such as Backup-manager, BackupPC, rdiff-backup script.
Regularly create backup copies of files, use special solutions for their creation and storage — and the data will be at hand under any conditions!
Additional, but such important data protection measures
There are a few more simple rules that will help secure both business and personal data:
Use licensed software products.
Use antivirus systems to protect information from malware.
Install the necessary software updates on time.
Use additional tools to enhance information security: additional dedicated IP addresses, server templates with activated disk encryption, encryption of communication channels, alarm buttons, etc.
Control the access to the data that you grant other users.
Use the recommendations in your daily work to prevent data leakage
Keep calm and work in the clouds from Tucha!
This is one of the main steps that will help ensure the reliable storage of important data and programs. Placing information on the remote servers will help additionally protect it from losses and other force majeure, unauthorized persons, and intruders.
Tucha's facilities are located both in Ukraine and abroad (in Germany, Slovakia, and France), in certified data centers that meet Tier 3 security level or higher. This means that the rented servers will be available even during preventive or restoration work inside the data centers. And the level of guaranteed availability of services is 99.0-99.9%, depending on the service and the territorial location of the facilities.
Remote data placement with the cloud provider, which customers and partners have trusted since 2012, is the key to reliable storage of programs and data!