Server administration: What does it include and who needs it?
Server administration: What does it include and who needs it?
So, the ship for the big voyage is built and floated out, the bottle of champagne was broken with all honors and celebrations, and the brave captain confidently went up on the captain's bridge. There is the only unsolved question: Who are you going to take on board to be not surprised by problems in the middle of the ocean?
No, this is not the beginning of a story about the Titanic or another more successful ship. Today we will talk about the use of cloud technologies in business, and whether it is worth going on a great voyage with a couple of our engineers on board, who will keep the ship afloat, and if there is an iceberg, they will quickly patch the hole. We will talk about a cloud server administration service.
Is it possible to do without server administration services?
New clients frequently ask this question. The answer is yes, but only if you have a skillful system administrator in your team or you are an IT specialist. Tucha.ua will not leave you without support in any circumstances. So, if you order any service from us, you will get basic support for free.
What is the difference between basic support and server administration (extended support)?
Free basic support
Standard request processing procedure.
Consultation without diagnostics (question-answer).
We do not store your access details to the operating system on your server and do not have the right to interfere anyhow in its operation. We are only responsible for the functioning of the virtual machine, but not for the software operation on it.
Extended support (server administration)
Increased priority of request processing.
Diagnostics with a substantive consultation of our IT specialists on your questions.
Modification of hosting platform software (operating system, drivers, utilities, libraries, system services, language interpreters, DBMS) deployed in the virtual infrastructure.
We offer constant (from 30 euros/month) and hourly (20 euros/hour) administration. The important difference: with constant administration, we provide both reactive and proactive services (more specifically about them read below), with hourly – only reactive. With constant administration, we create our separate access accounts and accept your server for constant monitoring.
What exactly is included in the server administration service?
Server administration from Tucha.ua is a whole set of solutions that our specialists are responsible for.
Optimization of the server and individual applications. We will make sure that your server works reliably and at maximum speed.
Monitoring the server state. Round-the-clock monitoring of server services and the software will allow us quickly to find out about anomalies and quickly start fixing them.
Professional installation of updates. Always up-to-date software.
Security control. We will take all possible measures to prevent malicious software from accessing your data.
Regular backup of critical data. (if you use TuchaBackup service or provide us the access details of your storage). All important information will always be available for recovery.
Round-the-clock technical support. Our support team consists of qualified specialists who are ready to respond promptly to any incident 24×7.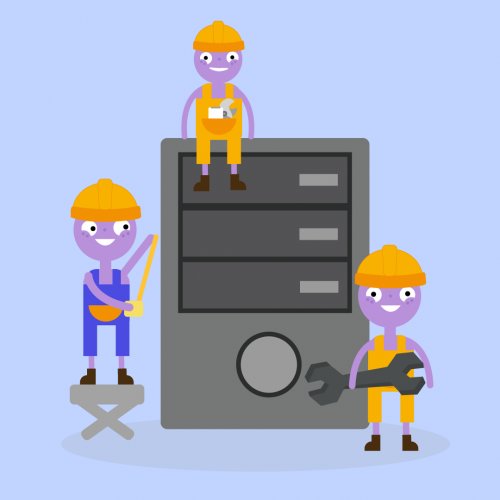 In general, our services can be divided into proactive when we take actions aimed at ensuring the stable operation of the client's system, and reactive, when we eliminate incidents or make some changes to the system configuration at the client request.
Proactive actions include:
continuous monitoring of the system operation and prompt elimination of anomalies in its operation, often before it has time to become an incident;
regular audit of system logs;
installation of system software updates in cases it is necessary to eliminate certain vulnerabilities;
installation and configuration of the system software in cases it is required to improve the efficiency of system maintenance;
providing system configuration backup;
giving recommendations to the customer regarding the system operation.
By reactive actions we mean:
troubleshooting the system;
making adjustments to the system settings when anomalies are detected in its operation;
making changes to the system software configuration at the customer's request;
conducting analysis and optimization of individual system components at the customer's request;
consulting the customer on all issues related to the system operation.
Areas of responsibility
Even after ordering the server administration service, you need to understand that we are not dealing with data that the user uploaded to the server (or it appeared there as a result of the user application work), so the responsibility for data remains with the client. 
Let us look at a specific example.
There is a site that you need to host on our server. Great, we will make the best of it. To check the server security, configure system services, and backups are our tasks, and you can be sure that we will do it conscientiously. However, if the client uploads the site with errors in the code to our hosting and the site does not work, this is an oversight of the site developers. The same applies to subsequent changes to the site code, CMS updates, and other operations with downloaded data.
The same goes for external security.  We will take all possible measures to prevent hackers from changing or getting any data due to vulnerabilities in the system software. However, if the code of your website initially contains a vulnerability or a "bookmark", hackers can easily take advantage of it.
Let us sum up. The physical infrastructure of the data center, the virtualization environment, the virtual hardware, is completely our responsibility, and the downloaded data is yours.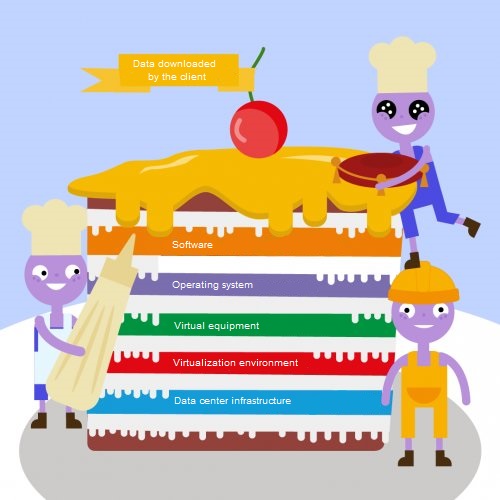 We make the whole pie ourselves, each layer, and even the cream. But the cherry is the data you upload, and we simply do not have the right to move it at our discretion.
Who needs server administration?
It is difficult to identify specific groups of clients who need or do not need to order the administration service. We are often addressed by owners of new businesses who can't afford a full-time system administrator, online stores that need round-the-clock monitoring, or companies whose activities are far from computer-based and who find it more profitable to use the service of our specialists than to hire a specialist. Depending on the situation, permanent and one-time administration can be useful for almost any business.
Price
As you may have already understood, server administration is a responsible activity that requires a lot of additional time from our specialists. That is why the service is not free. Otherwise, we simply would not have enough money for other cloud tasks. :) The cost of administration starts from 30 euros/month (depending on the configuration of your server) or 20 euros/hour. This is a reasonable and very moderate price for the reliable operation of your server.
So, system administration of servers is an irreplaceable service if you do not have a skillful system administrator in your team, your Internet project works round-the-clock, or it is just beginning of your big voyage. Reasonable price is another important argument. Think and carefully consider all the pros and cons, and if you have any additional questions, please contact us to get a competent advice 24×7.