IaaS solutions: reasons of the growing popularity and advantages of the following model
IaaS solutions: reasons of the growing popularity and advantages of the following model
Cloud solutions are gradually filling more and more areas of business: office IT infrastructures easily migrate to remote servers, and critical business data finds its protection in cloud storage. New solutions bring new models of network infrastructure organization. The most common three options of cloud systems organization are SaaS, PaaS, and IaaS. In this article, we are going to tell you about IaaS.
What IaaS is, main features 
IaaS is an abbreviation that stands for Infrastructure as a Service. In this model, a cloud provider allocates a client with a sufficient number of resources such as virtual servers, remote workplaces, data storage, with or without software. But the infrastructure deployment remains the client's responsibility. IaaS is an alternative to renting physical servers, racks in a data center, and operating systems. Instead, you buy the necessary resources with the ability to quickly scale them if necessary. In many cases, such a model can be more profitable than the traditional purchase and installation of equipment. Here are just several examples:
if the need for computing resources is not constant and can vary greatly depending on a period, and there is no desire to overpay for unused capacity;
when a company is just starting its way on the market and does not have the working capital to buy all the necessary infrastructure – a common situation for startups;
business is growing rapidly, and network infrastructure should keep up with it;
if you need to reduce the cost of purchasing and equipment maintenance;
when a new direction is launched, and it is necessary to test it without investing significant money and resources.
IaaS can be based on a public or private cloud, and by combining two approaches – the so-called "hybrid cloud" created using appropriate software.
IaaS expansion statistics
In recent years, we can observe not only the explosive growth of cloud technologies in general but also the IaaS model in particular. According to the statistics provided by Gartner, the overall growth of cloud computing in 2016 is about 17% and 38% for IaaS. According to forecasts, the trend will continue, and by 2019, the spread of IaaS will grow several times. The reason for this phenomenon is that small and medium-sized businesses are massively moving to the cloud, and IaaS is the most convenient and understandable option. The main advantages of the technology are the ability to use any software, custom hardware settings, a wide selection of supported devices and operating systems, and scaling. These advantages have become the key to success in the market.
According to surveys, most clients put two factors in the first place in terms of importance for a network infrastructure organization: reduced operating costs for maintaining equipment and ease of scaling. And IaaS offers all this. So, more and more people are switching to this model. The ability to pay for the actual use of resources is another advantage that encourages companies to choose infrastructure outsourcing.
The main advantages of the service compared to PaaS and SaaS
Companies that are just planning to switch to cloud technologies often think about which service to choose: IaaS, PaaS, or SaaS. Each of the options has its advantages, but in most cases, infrastructure as a service is more convenient. For example, if you compare it with SaaS, a client gets a ready-made system with installed software and environment. The installed software on a provider's side may be unfamiliar to the company's staff, which will require additional training, which means additional costs and time. Besides, it is not possible to adjust software independently. You have to use only what is provided, without any adaptation. Additional disadvantages include limited access to databases.
The PaaS model has a very narrow purpose – it provides opportunities only for software code testing and development. The limited number of tasks that the platform can solve makes it niche and not appealing for most clients. Nowadays, the PaaS model is the least popular one.
Unlike the other two models, IaaS is devoid of all these flaws. Clients can install any software they need, modify it to suit their needs at any time, solve any tasks - from launching a website to organizing remote workplaces for staff. There are no critical restrictions on data storage organization, database creation, and a choice of operating systems and computing resources configuration can be changed on the go, without long downtime for upgrades. This is what attracts an increasing number of companies to IaaS.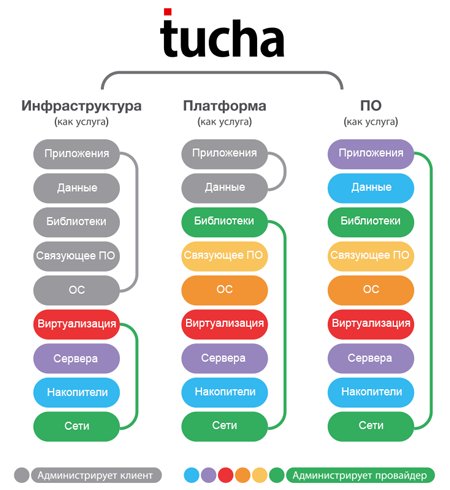 Differences between IaaS and other options for organizing cloud systems
Conclusion
Today, IaaS is the most convenient and profitable option for a business to organize the cloud. The IaaS clients get the following features:
installation and management of any programs, unlimited work with databases, choice of operating system and environment;
flexible and dynamic scaling – you can add computing resources at any time or turn off unused ones;
mobility – you can work with a familiar environment in the cloud from anywhere in the world.
Given the financial benefits and the lack of additional training costs, IaaS can be safely recommended as the best business model.
For infrastructure hosting, we recommend using our scalable service TuchaFlex+. High level of availability, reliability due to the use of Tier III security data centers in Germany, round-the-clock support on any questions that arise, migration assistance. Please contact us, we are always in touch!