We have launched Anonymity on demand so now you can work like James Bond
We have launched Anonymity on demand so now you can work like James Bond
We have launched another cool thing that helps visit sites and work with any services anonymously.
So, first things first.
Anonymity on demand makes traffic anonymous by using special software. This is the main advantage.
Without using such software, the simplified scheme of interaction with the end node looks like this

When you use anonymity, a remote server knows almost nothing about you, because there are additional intermediate nodes in the interaction chain, that are also members of the network. In essence, you log in through computers of many other users, the system cannot determine who you are or where you are from.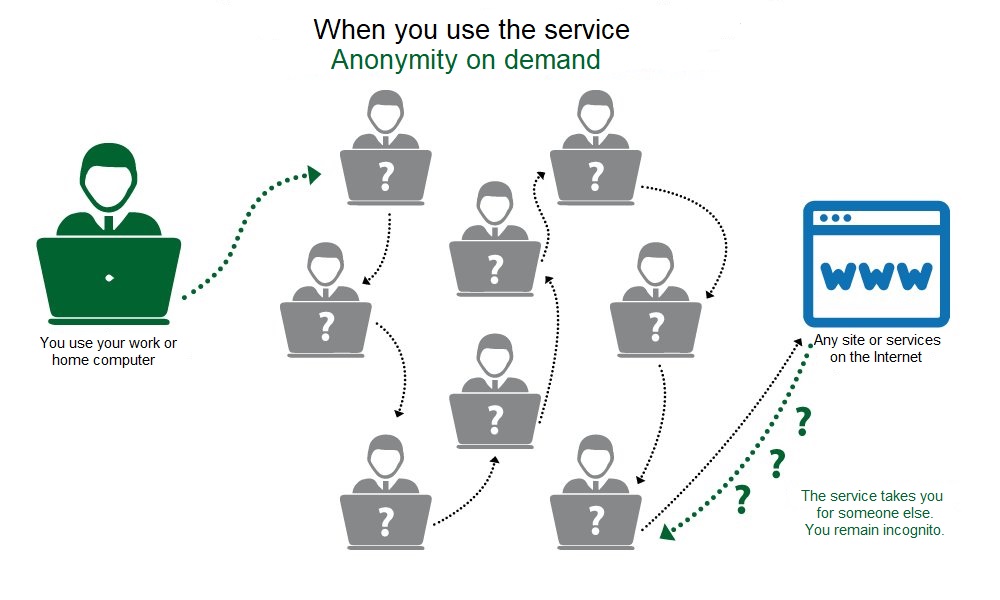 When connecting to any node on the Internet, your server connects through a chain of computers located in various places, for example, a store in Australia, a data center in Finland, or a pensioner's apartment in Japan. This connection chain will constantly vary, and the system will see you as a new user every time.
If necessary, you can disable anonymity and enable it when needed. You can also configure individual routes, for example, you can access specific servers through the anonymous network, and the rest directly through the Internet, or vice versa, everything except some nodes or networks pass through the anonymization network.
Advantages of use:
Anonymity - you work like James Bond. :-)

The ability to maintain anonymity not only in a browser but also when working with any other applications that use the TCP Protocol. It is an important advantage over the Tor Browser, for example. It allows you to anonymize only work with websites, while your computer has to work as one of the nodes of the anonymization network. Luckily, it does not happen when you use our service.
There are some disadvantages too:
Traffic may pass through a different continent or an IP address from the blacklist, which makes certain Internet services open more slowly or do not open at all.

Some resources (Google, for example) can detect traffic as suspicious and apply sanctions at their discretion: require entering a captcha, block traffic.
Apart from that, it is a very useful tool if you need to do something anonymously.
It is important to know! Please keep in mind that apps you use may itself transmit data about you to a remote server. None of anonymity tools can give a 100% guarantee that all your visits will be anonymous. Most websites use cookies and scripts executed on a user's side to track the user. So, using the Incognito mode in the browser, disabling the execution of program scripts, and other measures, up to the use of a foil cap:), will not be excessive. Also, some websites analyze a range of indirect characteristics, from screen resolution to mouse cursor movement patterns.
How much does it cost to work like James Bond and how to start?
The cost of the service is 10 euros per month for one network interface connected to the network that provides anonymity. One interface is usually enough for one server.
To start using the service and make all traffic (or some part of it) anonymous, you will need a simple setup. You can do it yourself or with our help, if necessary. In this case, the setup cost will be 400 UAH. It is a one-time service, then you can work independently.
If you want to enable Anonymity on demand right now, or if you still have questions, please contact us. You are welcome 24×7.