Testing Plan TuchaBackup Cloud Storage
Testing Plan TuchaBackup Cloud Storage
TuchaBackup is not only a reliable backup data storage but also easy to set up and use. However, we have noticed that when ordering a test period, a client does not always know how to test the service as effectively as possible and where to start. In fact, everything is quite simple, and we have made a step-by-step plan for testing and using TuchaBackup. So, you got access details, what is next?
To connect, you will need an FTP client. We recommend FileZilla, it is quite simple.
1. Run the program and enter the access details that we have sent you:
in the Host field, enter the server's name;
in the Username field, enter the account name;
in the Passwords field, enter the password.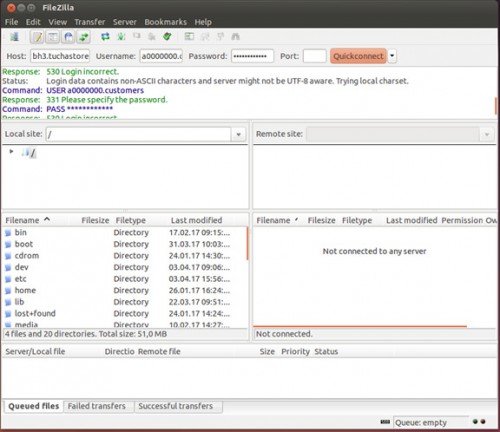 2. Click QuickConnect. This is it, the cloud storage is ready to use. :)

3. To upload files to the storage, find them in the left window (it displays folders from your computer) and drag them to the right (here you will see the content of the storage). If you need to restore files from storage in the future, drag them in the opposite direction.

Note that the next time you want to add the same files or other files with the same name to the storage, the system will ask you what to do: overwrite with replacement (Overwrite), Rename (Rename), do not copy (Skip).
4. In the lower part of the workspace, you can select to display files that are currently being copied (Queued files), successfully copied (Successful transfers), and files during copying of which some difficulties have occurred (Failed transfers).
5. If you want to set up automatic backups, we recommend you use one of these programs:
for Windows OS: CobianBackup, Handy Backup, Exiland Backup, Fbackup;
for Linux OS: Backup-manager, BackupPC, or rsync and rdiff-backup scripts.
And as we have written many times before – you can save on everything, but not on backups. It is impossible to overestimate its importance for business. A hacker attack, a virus, a fire, or even equipment seizure – a disaster can be avoided if you regularly back up your data to cloud storage. If you have any additional questions about using storage or other cloud services, please contact us for competent advice 24×7.