Why is it worth making a data backup? The most common reasons for data loss
Why is it worth making a data backup? The most common reasons for data loss
Today, data loss is almost equivalent to a natural disaster and automatically leads to series of unpleasant consequences, including a loss of time, money, effort, and even reputation.
If you want to be sure that your information is safe, we advise you not only to keep it in a safe place but also to pay attention to the most common reasons for data loss, as well as ways to restore it. So, let us find out what events can leave you without important files.
1. Carelessness when working with the files
Often the cause of data loss is a person, which often happens due to their inexperience or inattention. Among the most popular user errors that lead to data loss are the following: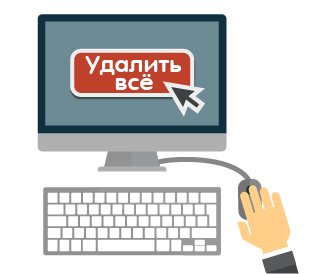 accidental deletion of important files;
unintentional formatting of the media;
overwriting information;
file formats conversion.
Ironically, a user's independent attempts to restore their data could cause its final loss, so before doing something on your own, it is better to consult with professionals, or even completely entrust the task to them.
2. Infecting the system with viruses
Perhaps this is the banalest reason for losing important information. Users frequently underestimate malware. Besides, even a good antivirus will not save if a person ignores all warnings and forgets to update it.

Clicking on unknown links, visiting suspicious sites, ignoring information security measures, etc. gives malware a "green light" to destroy all types of files that you store on your computer.
3. Software, application, or operating system failures
If the first two reasons can be avoided, then program failures are an unpredictable phenomenon and often (although not always) do not depend on users. Fortunately, now when a system "freezes", the latest versions of the files that you worked with are saved, but if it completely fails, the location of your data will play a key role in restoring this information. Of course, modern technologies allow you to restore information from any place on the disk, and even if it was completely overwritten, but, from a financial point of view, it is more valuable for intelligence services, rather than ordinary users.
4. Hard drive breakdowns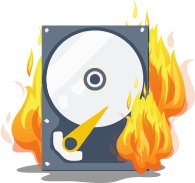 One of the most difficult cases is problems in a hard drive operation. If the read head of the hard disk is damaged or there are malfunctioning sectors, the data may be permanently lost. It is almost impossible to foresee such breakdowns, especially if a service program that controls the device tasks has failed. The only way to protect yourself is to buy reliable drives from trusted manufacturers and, of course, to back up your data.
5. Loss of an entire computer or server
Your computer or server may be vulnerable not only from the inside but also from the outside. It is not immune to physical influences such as liquid ingress, overheating, or dropping, nor to external independent factors, such as theft, seizure, fire, flood, etc.

As you can see, it is quite easy to lose data, but the same cannot be said about data recovery. And although ten years ago it was easier for a user to say goodbye to their important information than to look for rare and expensive specialists to "resuscitate" it, today this problem can be solved in several ways.
Method #1. Special software
You can restore information from your hard drive using special software. As a rule, when a user accidentally deletes the desired file or unintentionally formats the disk, only the information about the location of the files is erased, but the data itself remains, and the task of such programs is just to find information about their current location. Often, a user can not perform such work independently and resorts to outsourcing services, which requires significant money and time investments.

In most cases, data recovery takes place in the order of the established queue and can take several weeks. For urgency, of course, you will have to pay extra. Also, the percentage of information that can be extracted rarely comes to 100 %, because it all depends on where the files were saved on the hard disk, what size they are, and whether anything else was written on top of them.
Method # 2. Own forces
The most financially profitable and least time-saving method is to restore the data on your own. For sure, a user will be able to restore some of the files by finding copies of documents on removable media, reviewing the list of sent and received emails, or re-filling the lost data to already existing layouts. And if this option is still acceptable for a user computer, for a server that usually stores huge amounts of information, this scenario is absolutely unrealistic.

Although using both of the above methods, you may be able to achieve at least partial data recovery, nowadays there is nothing better than backups in terms of information protection. This simple, cheap, and reliable solution will not only protect you from possible troubles but also save a lot of your psychological and financial resources.
 
Why is it better to store backups in the cloud?
By regularly backing up your files and storing them in cloud storage, you get a number of benefits, namely:
fast automatic creation of backup archives, which happens without your participation;
storing data separately in the cloud provides complete data recovery, regardless of the physical and functional state of your computer or server;
the ability to expand the storage space as the volume of backups increases;
free and fast data recovery at any time.
We recommend using our service TuchaBackup for backups of your data. At the same time, the data is safely stored in the secure cloud located in a reliable Tier III data center in Germany. In addition to all the advantages described above, if you order cloud storage for large volumes of backups, you are guaranteed to get a discount.